I've been thinking about blankets. It's quite fascinating that something so seemingly insignificant – a really big swatch of knitted or woven fabric – has a truly, well, significant place in our lives. Think about it – to a person, we are swaddled in one at birth. We snuggle under them on a cold day, when we are sick, and when we seek comfort. We hide under them during times of crisis. We make forts out them, in which we feel safe and secure and defended from the forces without. When the landscape around us is blanketed in snow, it's a place of serenity, calm, beauty. In short, blankets rock. Oscar can attest: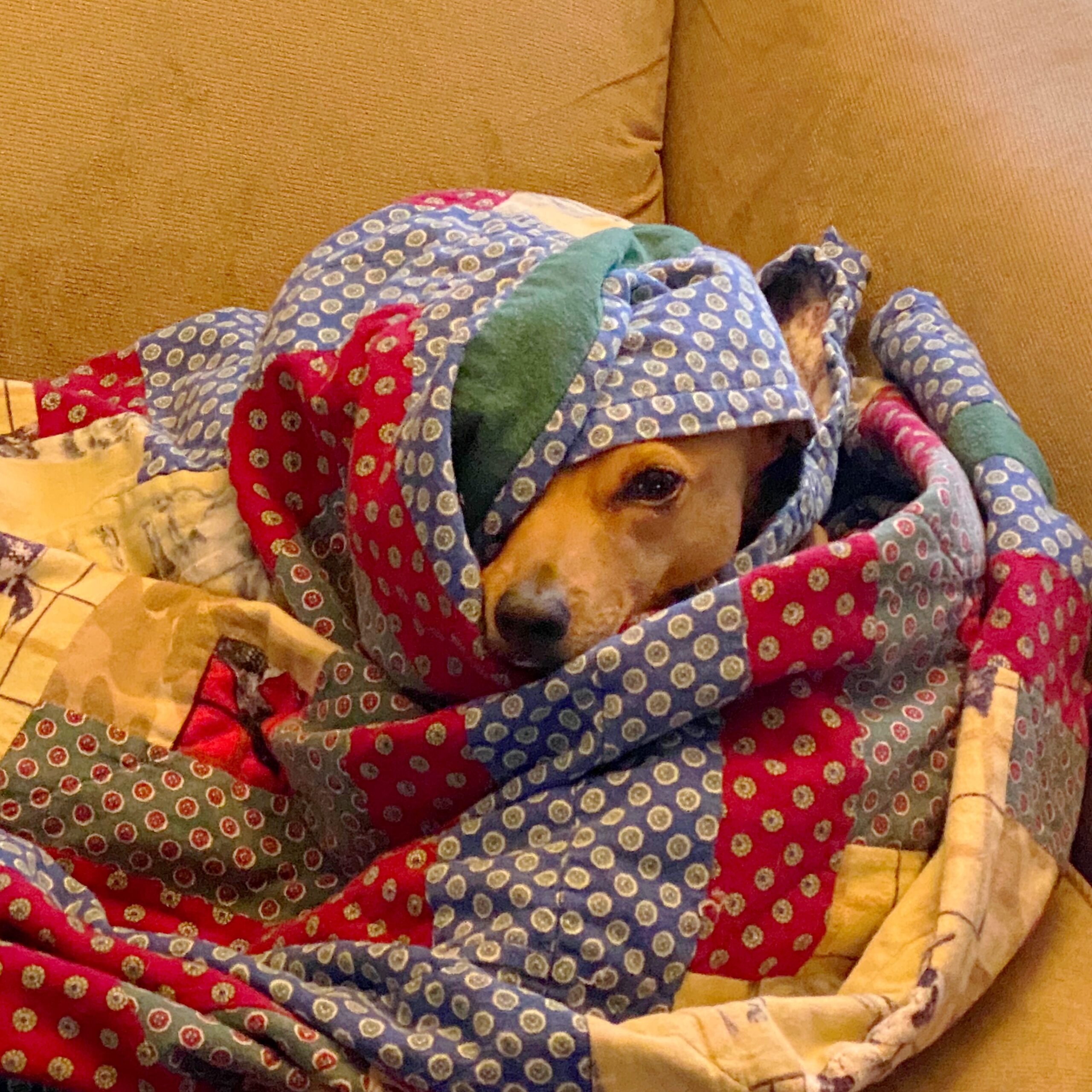 While perusing one of the dozens of knitting-related emails to which I subscribe, I recently came across a blanket pattern that spoke to me on gut level. It was like we were old friends or something. Weird, I know, but that's how it went. There isn't anything particularly spectacular or special about the design, but it instantly reminded me of blankets from my childhood. You know the kind – floppy, textured, malleable, cozy. I took one look at the nubbly goodness it exuded and craved. Within an hour, I had found the right yarn, gave the interwebs' yarn store all my necessary partics, and clicked "purchase now."
Because I know you need to know, the pattern is a free one from Berocco with the unfortunate name, Blossfeldt. The yarn I chose is Berroco Remix, a non-wool tweed made up of 5 recycled fibres, including cotton, linen, and silk, in the color Ocean. I knit my Vivian cardi in Remix, as you may recall.
Now, I wait, and when it arrives, and this is a quote from one of my wisest knitting friends, "It's worsted weight on 5mm needles. Won't that take you a week? Your other projects will forgive you." Testify.
In the meantime, while I'm in a blankety frame of mind, I started a different project, the seed of which was planted over a year ago in Toronto, where My Handsome Man's dear sister lives in an urban condo. During our last visit in September 2019, I found myself drawn to this stunning leaded glass piece hanging in her kitchen window. If I remember correctly, it was made by a close friend of hers.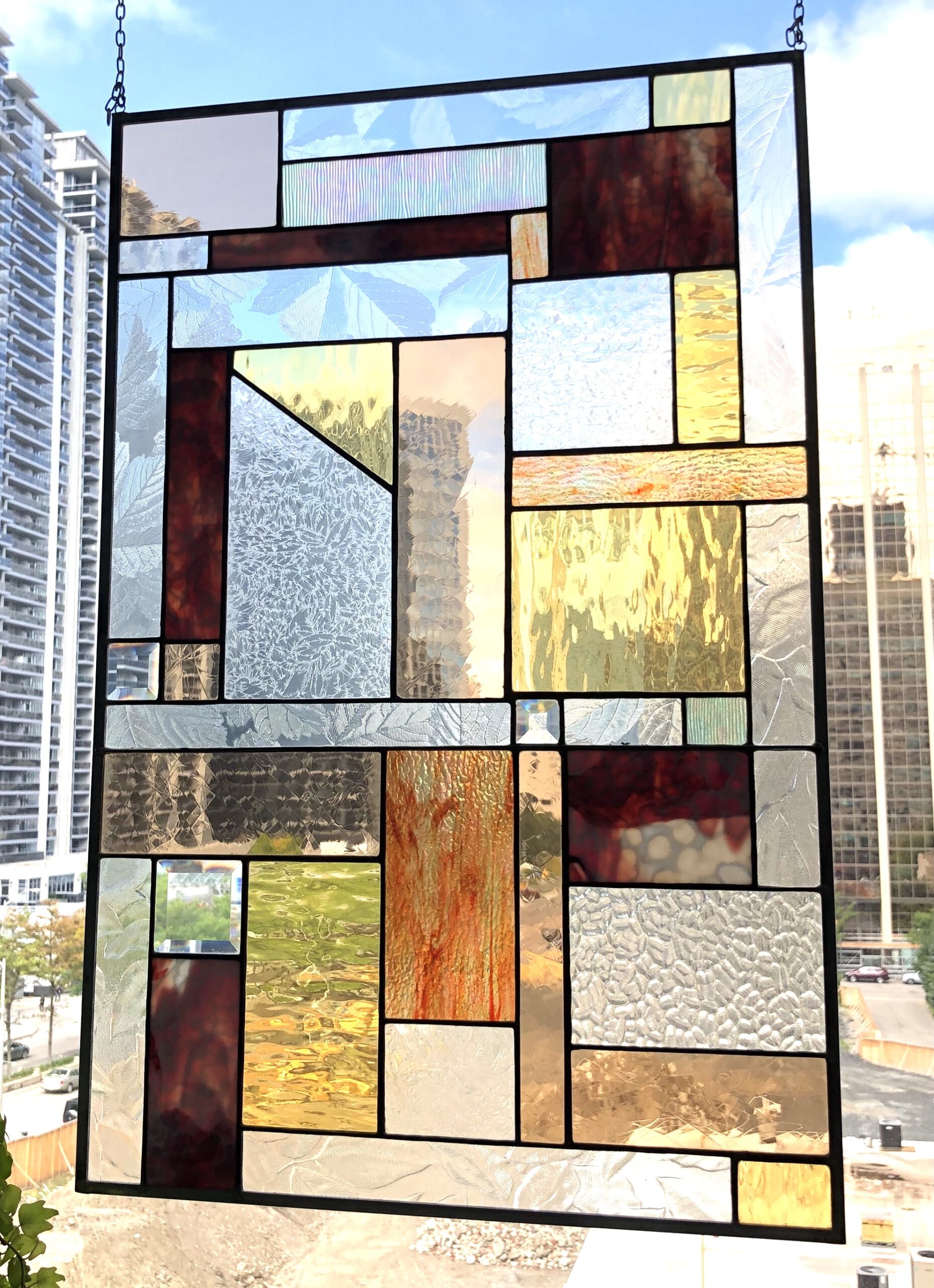 Like the Berroco blanket, this wonder of light, color, and texture spoke to me instantly: "you could knit me into a throw – I would be a really cool throw." Inanimate stuff talks to me like this all the time, so I thanked it for sharing and filed the idea away in my internal design cabinet. Last month, as I sorted some digital photos for an earlier blog post, this pic caught my eye and my super efficient brain retrieved that file from storage. A few days later, when I was in a yarn spendy mood, I googled my way to Webs at Yarn.com to see if I could curate a set of yarns that would do it justice. After a few minutes of searching, it was clear that I wasn't going to achieve the 10 perfect colors within a single yarn line. Many many MANY mouse clicks later, I had selected 10 colors from 7 different brands, took a wild guess at the amount of yarn I'd need, and let PayPal do its thing.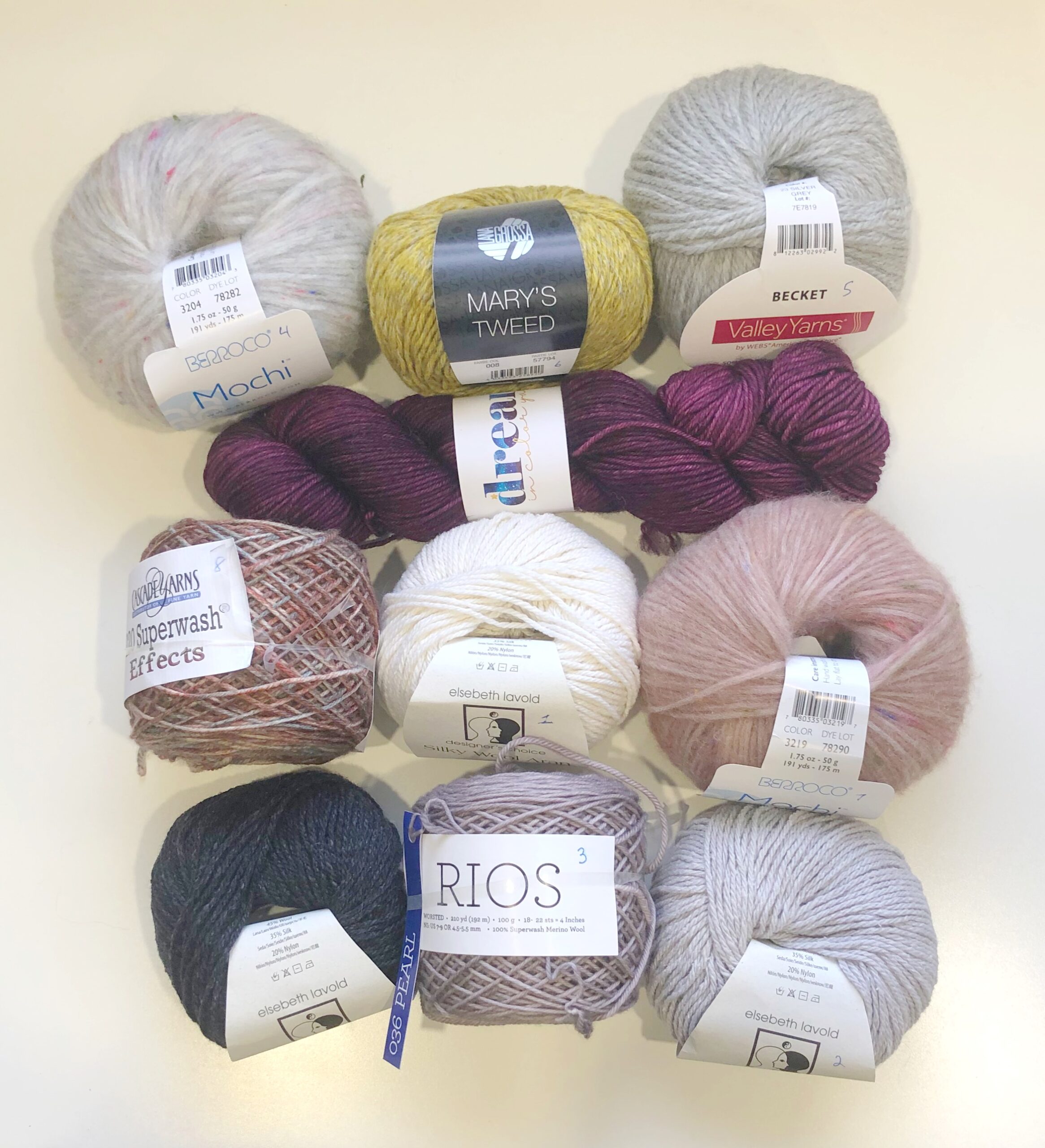 Shopping like this online is a bit of a crapshoot at the best of times. A photo can only tell you so much about a yarn's true color and properties. Remarkably, when the bag of yarny fun finally arrived last week, I was delighted to find that only one color out of the 10 wasn't going to work – the dark purply pink really needed to be more of a brownish blood red. Fortunately, I had something in my stash that was exactly the right shade, but fingering, not worsted. Unfazed, I knew I could double the heavier fingering, and yup, it's perfect. Yes, there are a variety of textures in there, but I'm really really very good with that, as the glass was differently textured too, and that's what I was going for.
Inspiration? Check. Yarn? Check. Pattern? Hmmm…so far, all I had was a photograph.
Seems like a simple enough task to turn a color-block glass rectangle into a color-block yarn rectangle, right? Really just needs to be a giant graphed chart to be knit in intarsia, right? Right…except…math. After much head scratching and punching of numbers, my calculator said the chart was going to be 188 stitches wide by 370 stitches high – seriously unmanageable in my Stitchmastery charting program. I tried scaling it down by using one block to represent a block of 4 stitches wide by 4 stitches high, but quickly realized that wasn't going to work, as I only want a two-stitch wide "lead" between the colored blocks. In the end, I drafted the chart half-size, with each charted stitch representing a 2×2 block. The result was happy making. I know you're thinking that the chart looks too tall and skinny and weird, but that's because knit stitches aren't square – they are shorter than they are wide – and so a graph made of square squares needs some tweaking to accommodate. If my math was right, the finished proportion should be correct when knitted.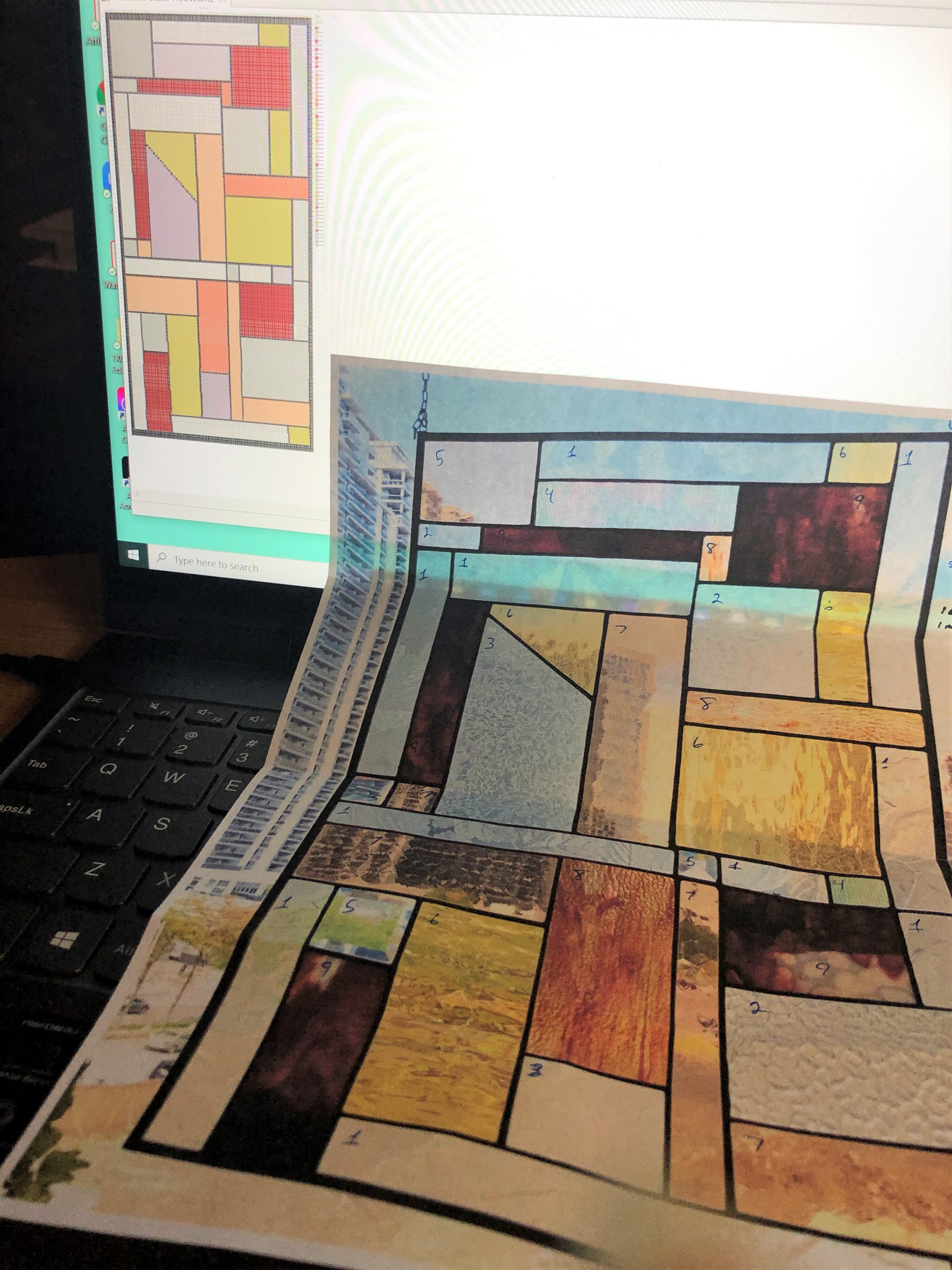 Yesterday, during a Zoom call, I picked up my 5.0 mm signature needles, cast on, and got this show on the road. It's looking promising so far.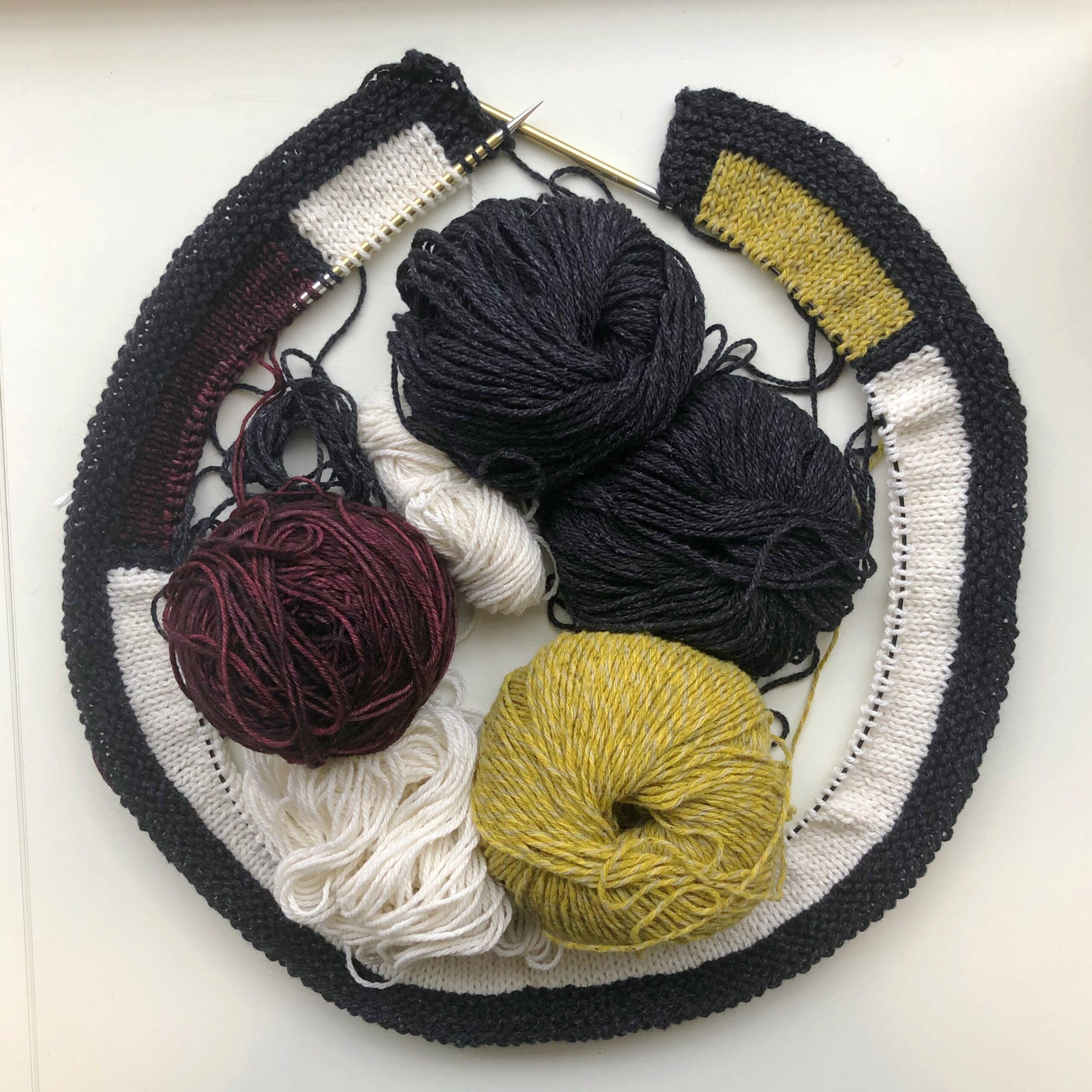 I'm only about a dozen rows in, but I'm already reminded why many knitters eschew intarsia designs. This knitting technique requires a separate ball of yarn for each block of color across a row. The rows you see above have 9 color changes. NINE! The next grouping will have 13 changes. Those yarns need to be twisted around each other at each change to avoid holes from forming between colors. Believing that you can keep all those yarns from turning into a tangled mess on the back is a little like believing in Santa Claus – a happy thought, but sadly not at all real. My intarsia skills are a bit rusty, so I'm going to research any new developments in managing intarsia-tanglements that may have arisen since I last worked a project like this. If I find something that works, I'll share. I promise.
Do you have fond blankety memories, dear knitters? Are there babies in the world snug and cozy because you have the magic to turn sticks and string into giant swatches of love?
Knit well. You got this.
Knicoleknits