A little over 72 hours ago, I sauntered into my periodontist's office for an appointment to have extra gum tissue grafted over 5 teeth – FIVE. In retrospect, I must have sailed in on that river in Egypt, because I entered the office in complete denial about what was going to happen when I left two hours later with a mouthful of stitches, a hard plastic stent jammed over my upper teeth and palate, and a bagful of meds, dental rinses, gauze, and a dozen pages of recovery instructions.
I'll spare you the gory details, except to say that in the aftermath I was mostly too miserable to knit. Let me say that again…too…miserable…to knit. It may seem incomprehensible, but the truth is that knitting takes energy – granted only a modicum of physical energy, but mentally, much much more. Not even one of my fantabulous current projects was appealing enough to stop me staring at the TV and pick it up, so my only recourse was to start something new and extra-stimulating.
Unless you've been living under a rock this last month, you'll be aware – really really aware – of the barrage of internet memes featuring a delightfully be-mittened Senator Bernie Sanders casually slouched on a chair at the US presidential inauguration. Within hours, his image was photoshopped into dozens of hilarious locations and wacky situations. Shortly thereafter, the knitting and crochet community saw an opportunity and ran with it. Patterns for knitted mittens and sweaters, along with crocheted Bernie dolls were popping up all over Ravelry and the internet in general. Tobey King's crocheted Bernie was the first one to go viral (and the best version I've seen so far), and it popped up in my facebook feed several times over, along with cautious inquires from friends about my ability and/or willingness to duplicate that particular mini-Bern. Me being me, I couldn't resist following the links to her pattern and was instantly smitten and impressed with the lightening speed at which she drafted and published deliciously detailed instructions. She has even graciously allowed for the sale of finished projects using her design. An article I read yesterday said that she has auctioned her own Bernie on Ebay, fetching over $20,000, the whole amount matched by Ebay, with all $40,000 in proceeds going to one of Bernie's pet charities, Meals on Wheels in Vermont. This pleases me immensely.
Anyway, I digress. I figured if anything could pull me out of my post-surgery funk, it would be dusting off my admittedly limited crochet skills and giving Bernie a go. Earlier in the week, I scoured my stash and happily harvested all the yarn colors I would need, but there were a number of very specific notion-y things that I had not: blue felt, 16 gauge wire, tacky glue, and safety eyes. A few minutes on Amazon plus a few shipping days and all the tools and materials were in hand. And there it all sat until mouth-torture day.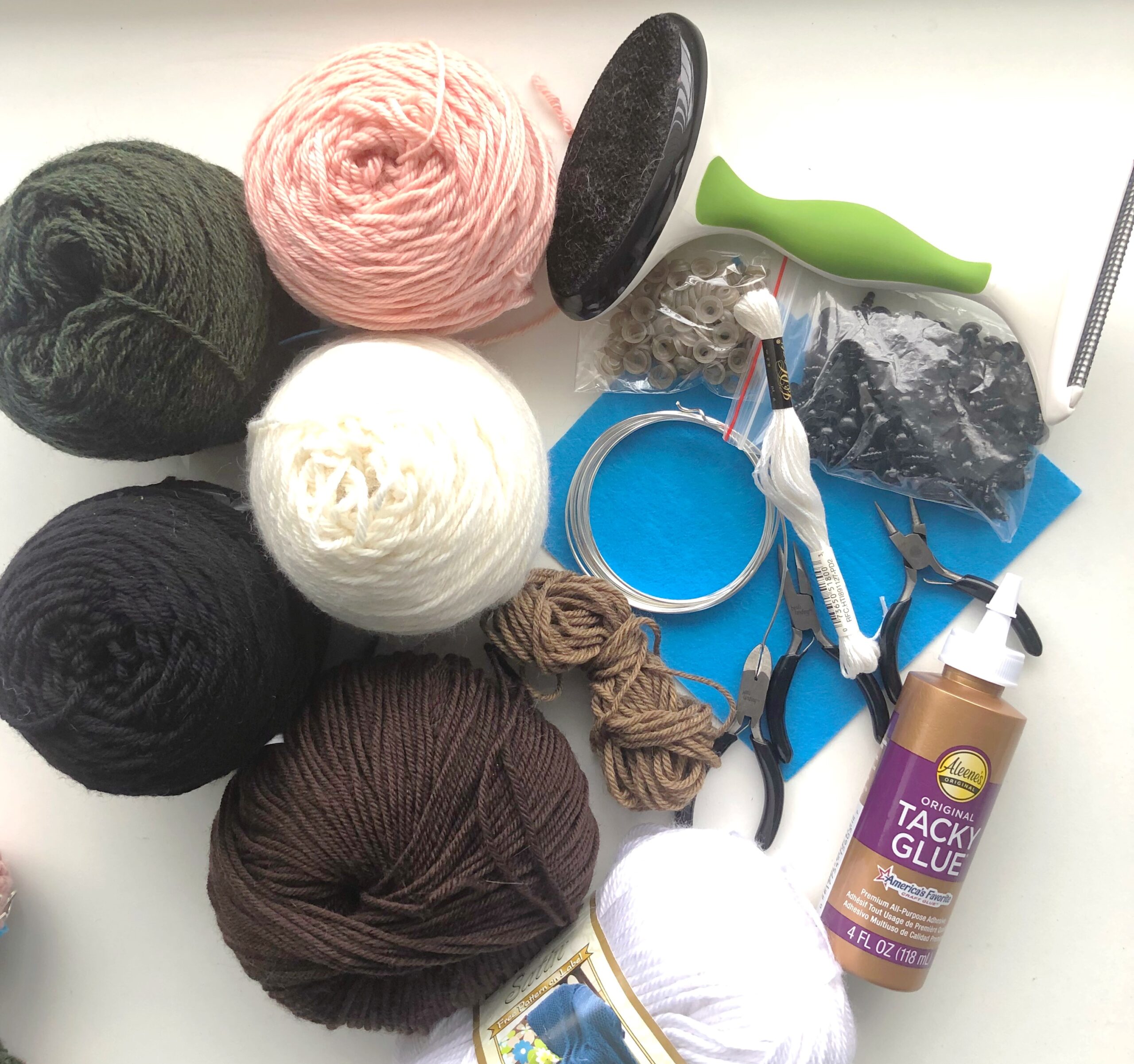 Who would think that such a little guy would require soooo many supplies?
I won't lie – Bernie challenged me. In my fuzzy-headed crankiness, I could only manage him in small increments. Some parts – his feet, his glasses, his mitts – I had to do multiple times before achieving an acceptable result. Tobey says she made her Bernie in about 7 hours. I'm sure mine took at least double that. I have no doubt that right this minute, my students are saying, "See? Now you know how we feel!" Touché, my knitters, touché.
After picking him up and putting him down, up and down, up and down, last night just before I crawled into bed, he was fully hatched:
He's pretty adorable, yes? I think his eyes are a tiny bit too far apart to properly be a decent likeness, and I did screw up the coat (saved by some creative stitching), but otherwise he's a passable first attempt. There's a fair to middling chance that I will make at least one more.
Now, before you get all excited and offer to throw money at me to have a Bernie of your own – please don't. It wouldn't feel right to profit from dear Bernie in any way, so I won't be accepting any commissions. That's not to say that a lucky and worthy recipient or two may not receive a Bernie to adopt in due course. I did say I wanted to improve my crochet skills this year, and I can think of worse ways to do it than practicing on the Bern.
Have you been inspired by Bernie to create any of the related crafty things? Some bandwagons are just worth jumping on.
And by the way, I'm done with the gum grafts – a second batch will be forthcoming when I've recovered fully from these ones. I better start thinking of a suitably distracting project now.
Knit (or crochet) well. You got this.
Knicoleknits