Hey, maker-peeps…s'up?
In case you haven't noticed, I've been like, um, kinda sorta away for a bit. And why, pray tell, did I abandon my beloved blog for, like, EV-VER??? Reasons abound, but to keep a long story short(ish – y'all know who you're dealing with here) last year was annus insania. That's Latin for batshit crazy.
Here's the Knicole's Knotes:
Decision to renovate townhouse; bazillion meetings, quotes, visits about townhouse renovations; work; townhouse full of service persons, measuring, poking, photographing, assessing; work; more meetings, visits, and quotes; sticker shock, then reassess decision to reno; decision to move across large body of water; work; trips across large body of water to shop for new home; find dream home; work; bazillion meetings, emails, documents, signatures to purchase dream home and sell townhouse; work; pack and move stuff to storage; pack and move stuff to temporary basement suite; work; bazillion meetings, visits, quotes, and workers to fix, paint, upgrade, and stage townhouse for sale; work; pack up and move back to townhouse; work; vacation in Jasper, Alberta (no work, yay! get Covid, boo); move stuff from storage across body of water to dream home; work; unpack; work; travel back and forth to townhouse; work; finally sell townhouse; work; pack up, give away, sell, and move last stuff out of townhouse across large body of water; work; unpack and settle in; work.
See what's I means? INSANIA. Totes worth it, though. LOOOOOOOVE the dream home. Here's peek at my "office" wall: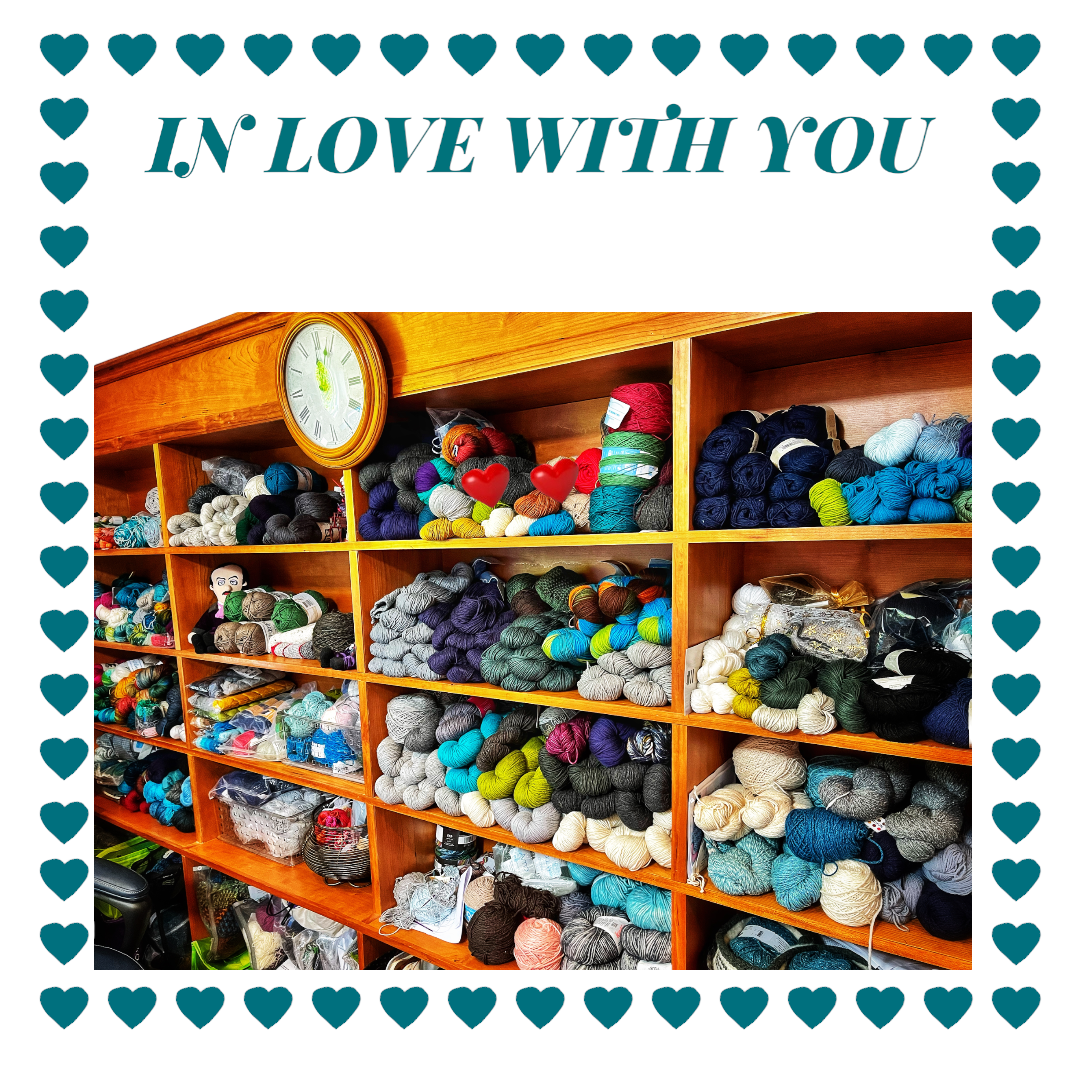 Right? RIGHT?!?
Okay, enough of that. Let's move on to the real reason we're here, shall we?
Now, due to the insania (see above), I was not as prolific as I have been in past years, but by some measure of gritty determination and more than a smidge of self-preservation knitting therapy, I was able to knock out the following FOs since my last post: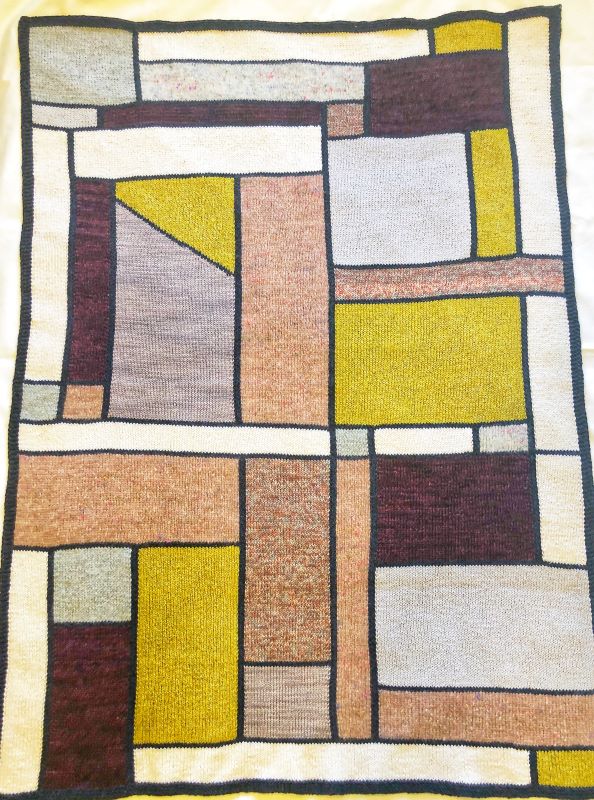 You can read the full story of this…ahem…masterpiece here. I finally finished it circa February 2022 and sent it off to its VERY delighted and grateful recipient. This is an original design, but even if I felt inclined to write up the pattern, I wouldn't do it again as a bottom up intarsia. Too much insania-making (yup – I'm making insania a thing now). Instead, I would figure out a way to work it up as a modular knit, i.e. only dealing with one or a few colors at a time. Nonetheless, it turned out pretty spiff and was a good learning exercise.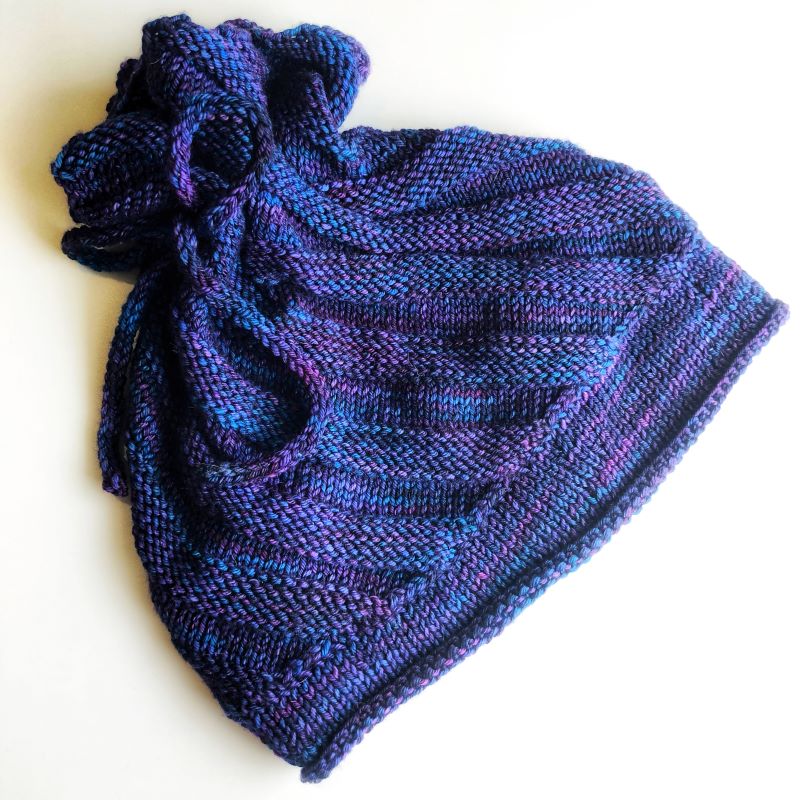 Twinch Hat (aka Hat for K-Shark)
This cutie-pie was a commission for a work friend. She had a beloved hat that she acquired at craft fair many moons ago. So beloved that it was holey and worn and she wanted a copy. So I copied. She picked the wicked-pretty Malabrigo yarn – sigh. I will write this one up for publication. It's got a twist and a cinch (hence "Twinch") and looks adorbs on one's head.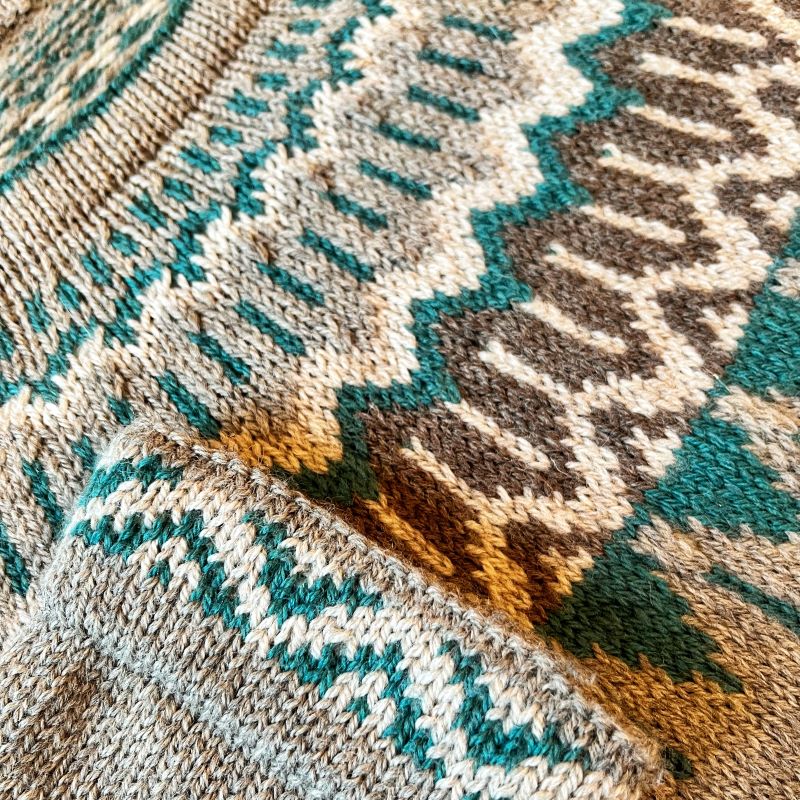 This was one of many languishing sweater kits in my stash. I can't even remember what inspired me to bring this into rotation last year, but it was a fun knit with a few snazzy mods like folded hems and colorwork cuffs. It's a tad on the big side for me, but it's warm and cozy and I have worn it several times this winter. I particularly love the colorwork lined pockets – how cute is a pocket on a pullover? Seriously – how cute???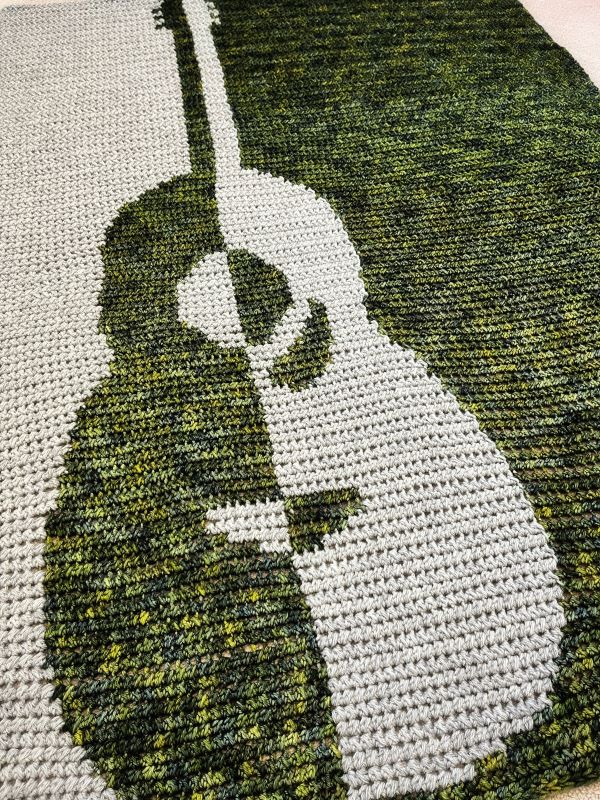 This was the Year of Crochet in Knicoleknits' land. And it all started with this specialiciousness blanket for my guitar-playin' Handsome Man's birthday. I've got some new crochet colorwork techniques in my tool box now. In this one, the yummy yummy Malabrigo green is carried invisibly through the natural color from one section to the other. Mind blowing. He loves it and shows it off to every one who sets foot in our house.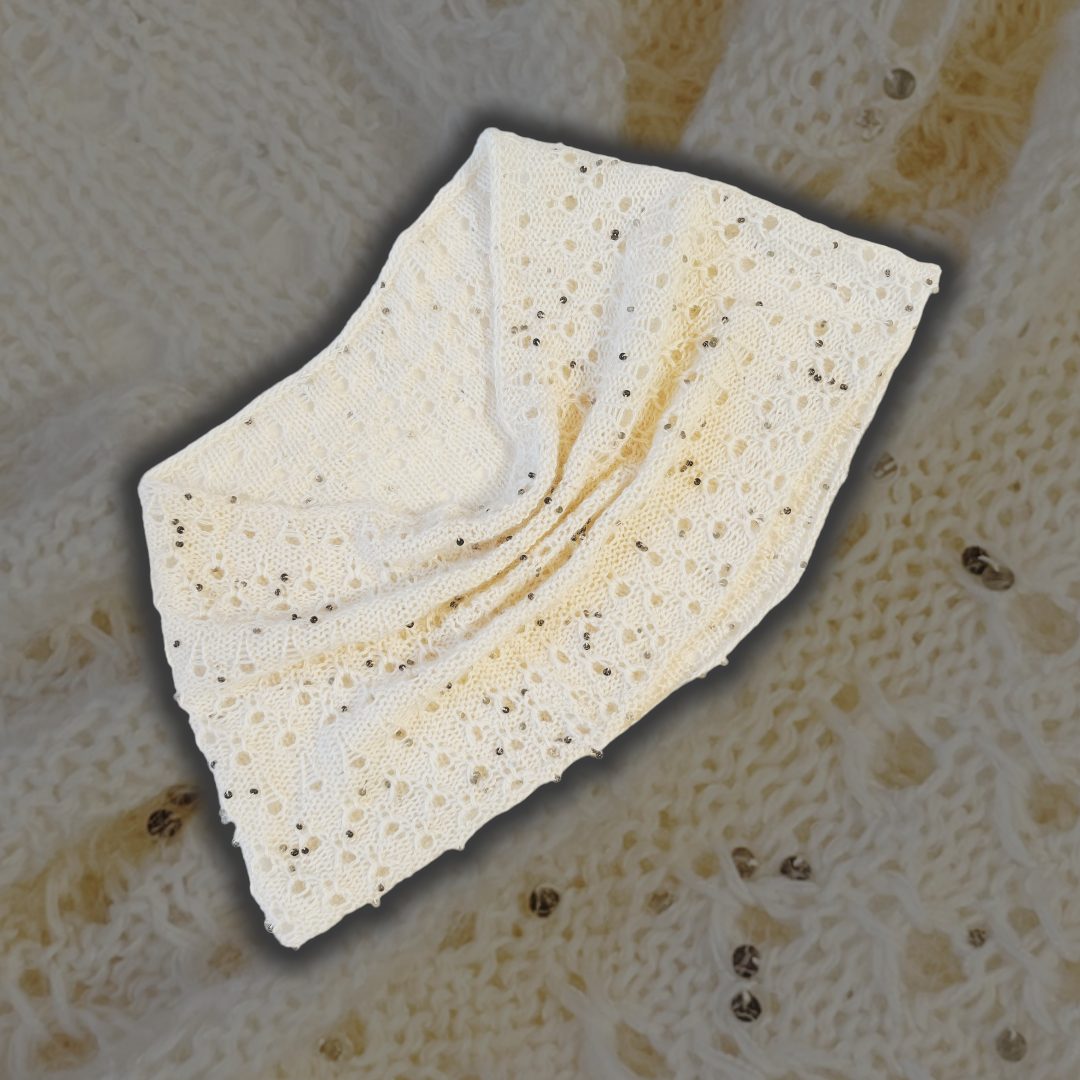 This is actually a modified version of this very cool cowl design. I only had two small skeins of this Vancouver Island hand spun, dyed, beaded beachy yarn. The tiny dark grey beads nestled in the creamy, slightly haloed whatever-it-is blended yarn base simply sing beach sand to me. It's a cute cowl. Haven't worn it. Maybe this spring with a denim jacket.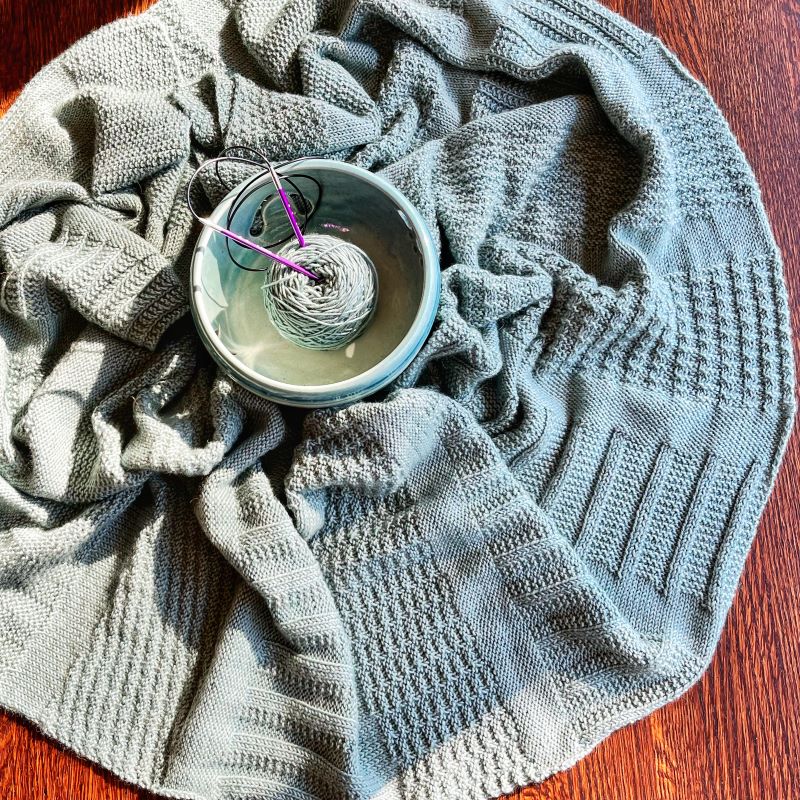 Welcome to the magical world of sequence knitting. To quote sequence knitting's inventor, Cecelia Campochiaro: "The concept of Sequence Knitting is simple: take a sequence of stitches and repeat them again and again. Depending on how you repeat them, different fabrics can be created." For me, it's the best example of how close knitting is to coding for computer programs. I was enthralled knitting this. The Caravan yarn from Crave Yarn is scrumptious. The finished shawl is 10 miles long and soft and drapey and wonderous to touch and…I don't wear. This yarn is also super spendy, so I may frog this and make a knock out sweater that I would def wear and love. Or, I suppose I could just buy more yarn…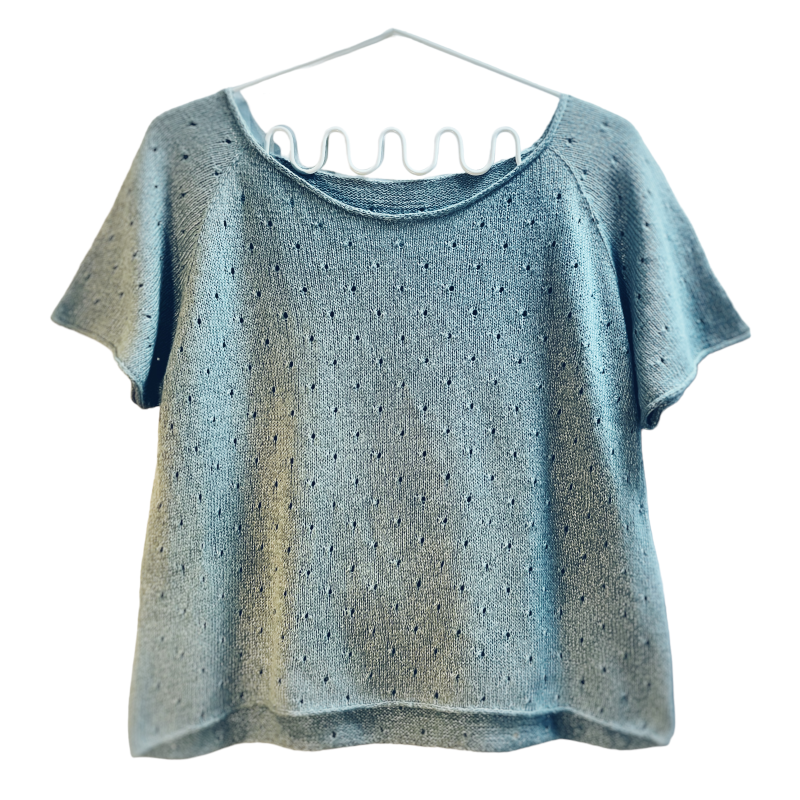 A bazillion teeny tiny stitches on teeny tiny needles in cotton/rayon/linen blend yarn. I LOVE it. It's one of the most wearable garments I've ever made. Fits and feels dreamy. The tiny eyelets and wee icord edges are sublime perfection. Got as much wear out of it as I could before summer went south for winter.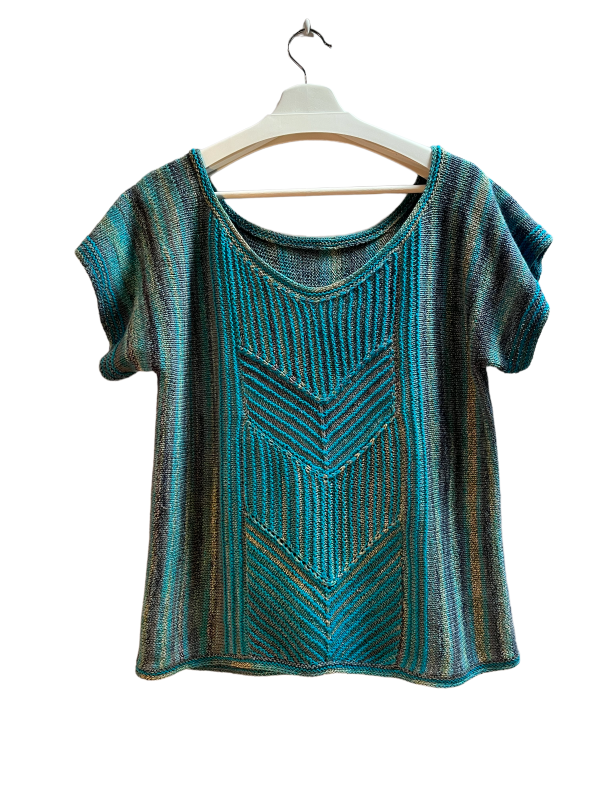 Looks great on the hanger. Looks hideous on me. Now sits in the frog pond. I really should have know better than to knit something with dropped shoulders and zero fitting. Upside: knitting the modular part in the front was fun.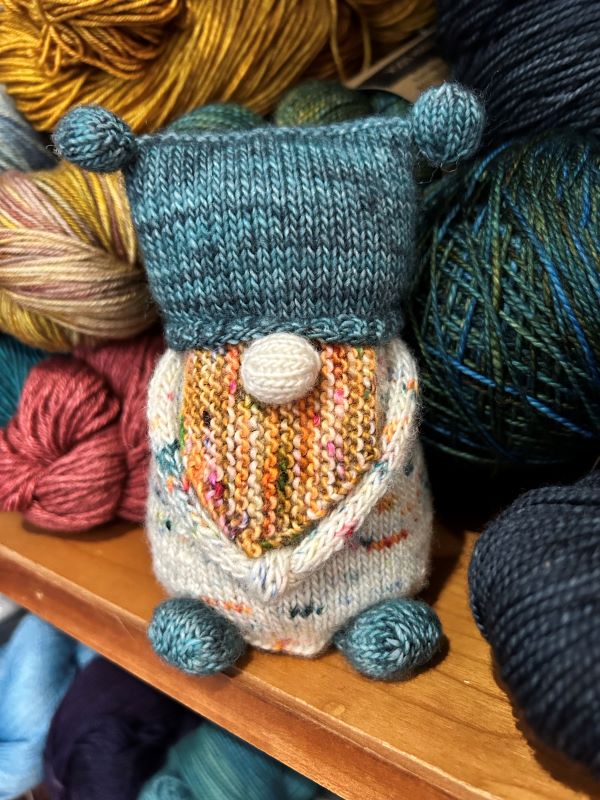 The first of a set of kits from Jimmy Bean's Gnome Collection Club last year. There are 3 more gnomes, a gnome house, and a toadstool to follow. Madelinetosh…enough said.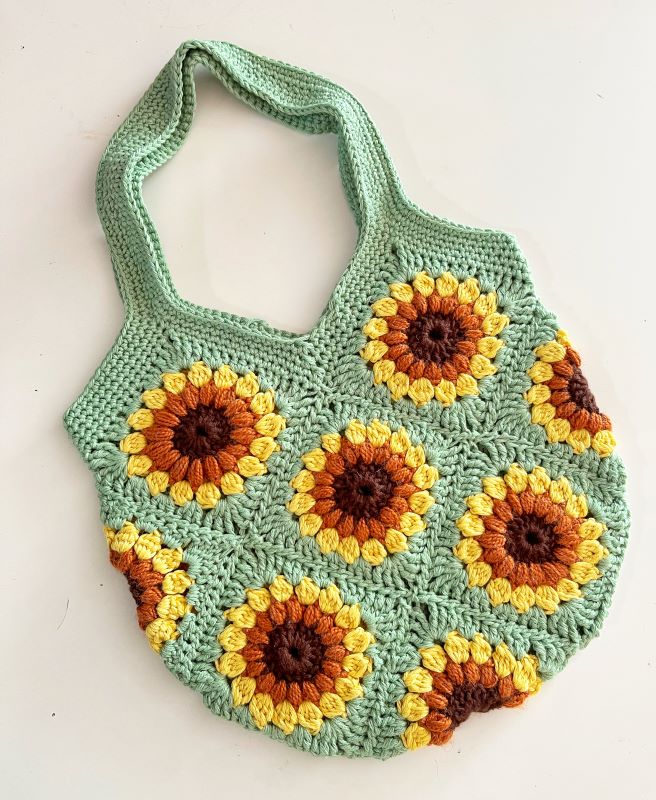 A happy birthday gift for my sunflower-loving Wicked Step Mother. More crochet, as you see. Miraculously had all the yarn in my stash. Fun to make. It's well loved.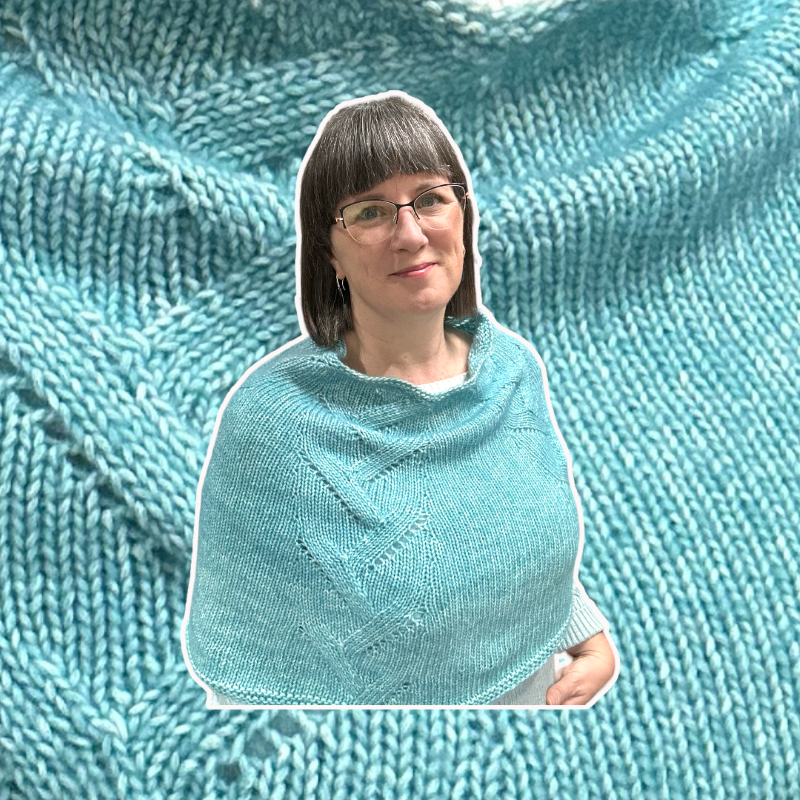 Soft and fuzzy cotton/wool blend capelet that I throw on regularly to chase a chill. Quick and easy knit in Totally-Nicole blue. This is now my preferred alternative to an open shawl or wrap.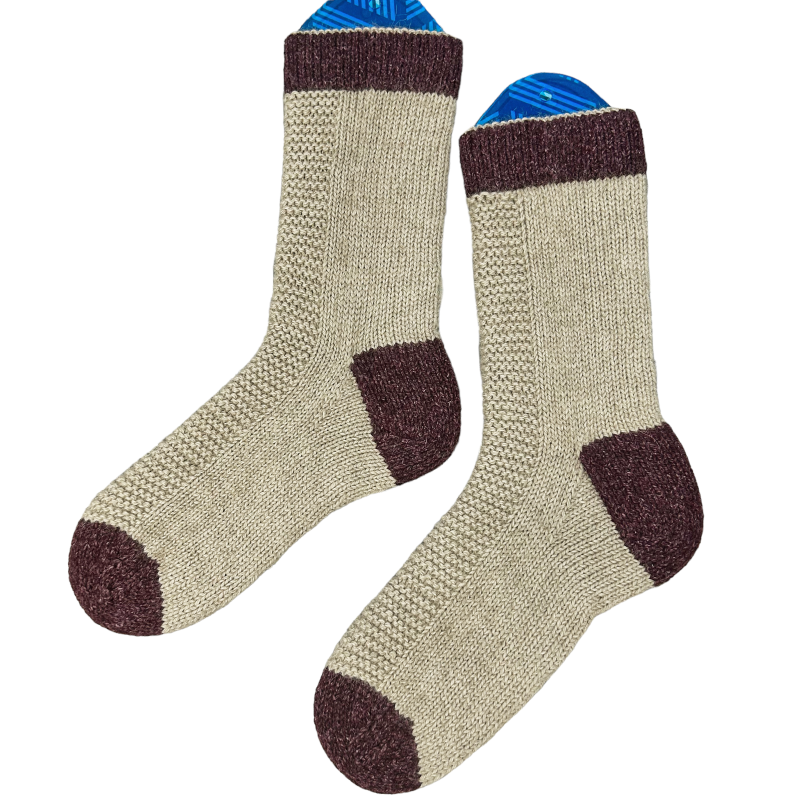 Warm, worsted weight winter socks for my mummy and her hubby. Quick and squishy last-minute Xmas gifts. A Tin Can Knits free pattern, modified with contrast toe and heels and a folded hem instead of ribbing. Now hanging out on some happy, toasty toes.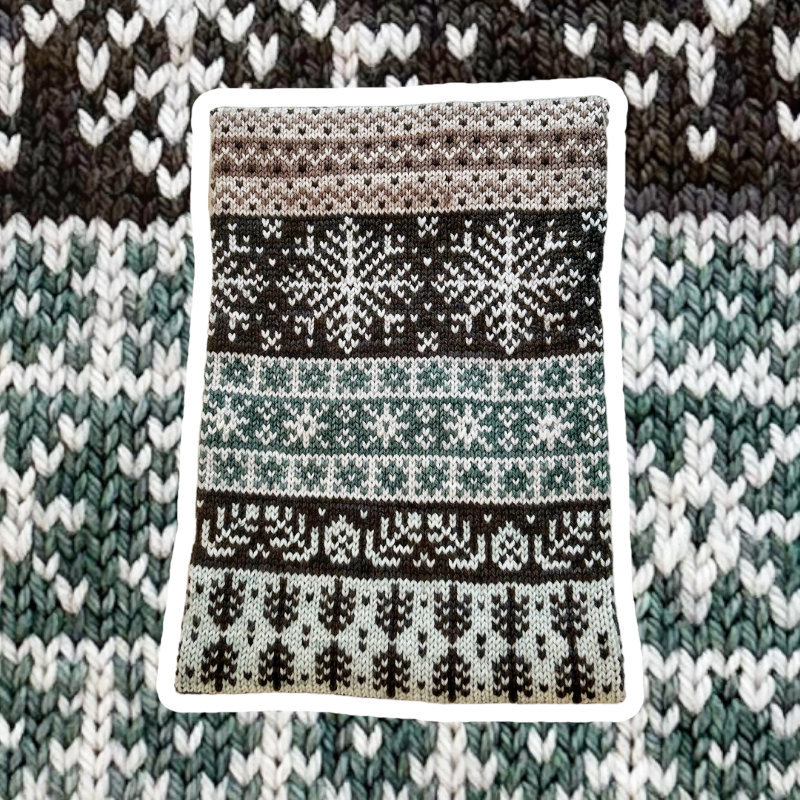 Winter Skies Advent Doodle Infinity Cowl
Very well might be my favorite project of the year. As suggested by the "advent" in this title, this was a December KAL supplied from an advent box spectacularly curated by collaborating makers, designer Jamie Lomax of Pacific Knit Co. and Rachael of West Coast Yarn Co. I cannot express enough how impressed I am with everything related to this project from delightful doodle charts to squishy-delicious yarn and special little treasures tossed in for good measure. Every day's sweet little brown envelope contained a spark of joy and inspiration. And, as a bonus, I'm now hooked on infinity cowls and have plans to design at least two in the near future. I revel in its squooshy warmth every chance I get. Don't sweat the FOMO – you can find the yarn through the Winter Skies Advent link above and the charts in the Doodle Infinity Cowl link.
And there you have it. The knitter's version of a What I Did Last Summer essay. Don't imagine for a split second that I used up all my sharable wares on this epic post. Never fear, my knitters, I've been up to quite a lot since New Year's Day. I could write a book (or at least a blog).
What have you all been up to???
Knit well,
Your long lost Knicoleknits