Sometimes you make decisions based on free will, and sometimes the universe sends you a sign. Now, I'm not the type to go around looking for signs all willy-nilly, but this one practically walked up and bit me on the nose.
It all starts back in October 2017, when Andrea Mowry published what became one of her most popular patterns, the Comfort Fade Cardi. (4,094 projects, and counting)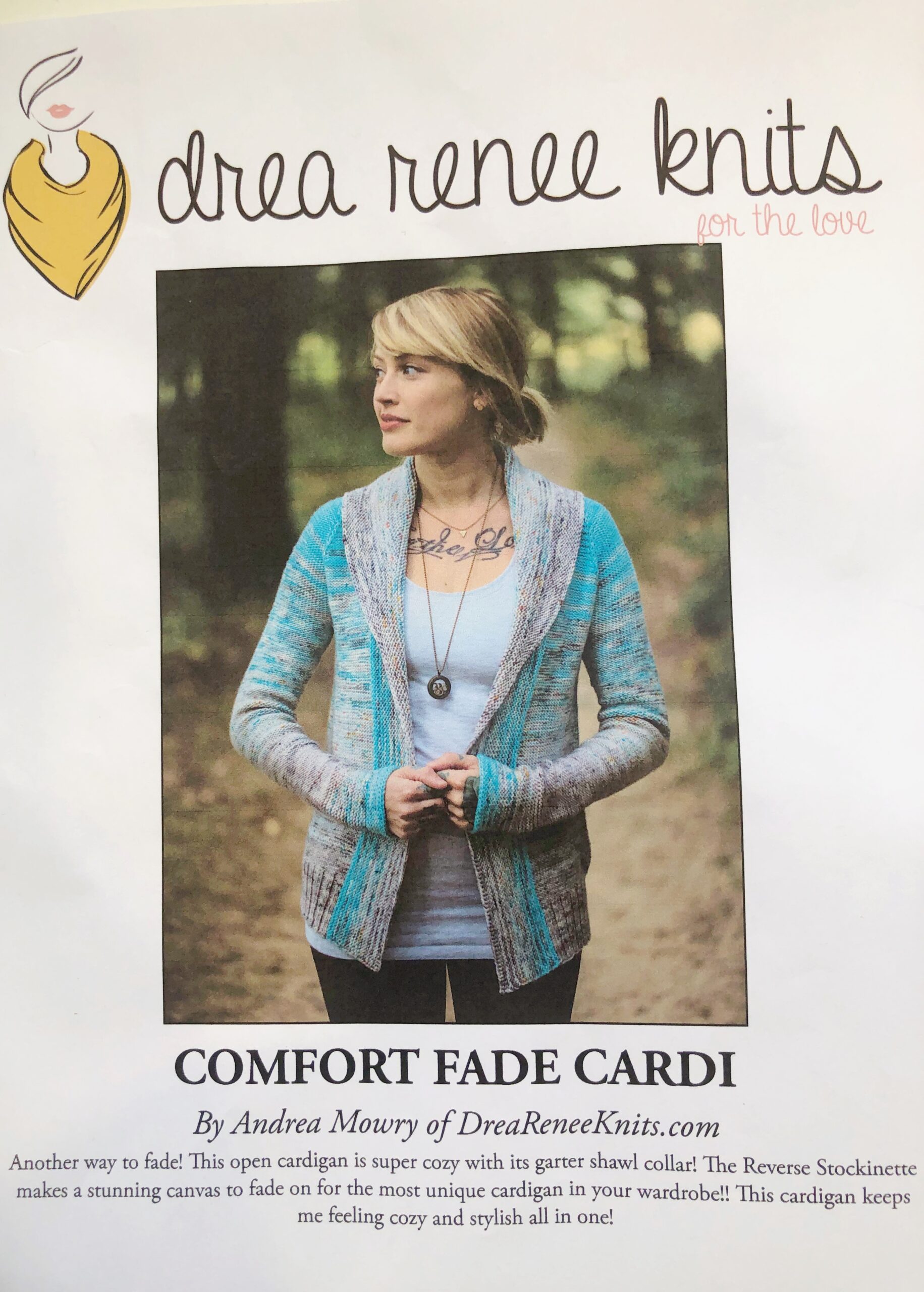 I saw, I swooned, I clicked "buy now."
I loved it exactly as it is, so, in April 2018, I googled my way to the yarn dyer's web site, La Bien Aimée, and with credit card at hand prepared to spend my way to speckly, fadey nirvana. Alas, that fabulous, oh so Knicoleknits turquoise was gone. A short temper tantrum later, I moved on to plan B.
I am a big big fan of Madelaine Tosh yarn. It's spendy, for sure, but it's…it's…it's just…yeah. Anywho, I found a set of Mad Tosh yarn for a suitable fade that tickled my fancy. Not speckled, but tonal enough for a decent fade effect. I ordered, waited, received, and anxiously swatched with fingers crossed (well, not really, because you try to knit with your fingers crossed).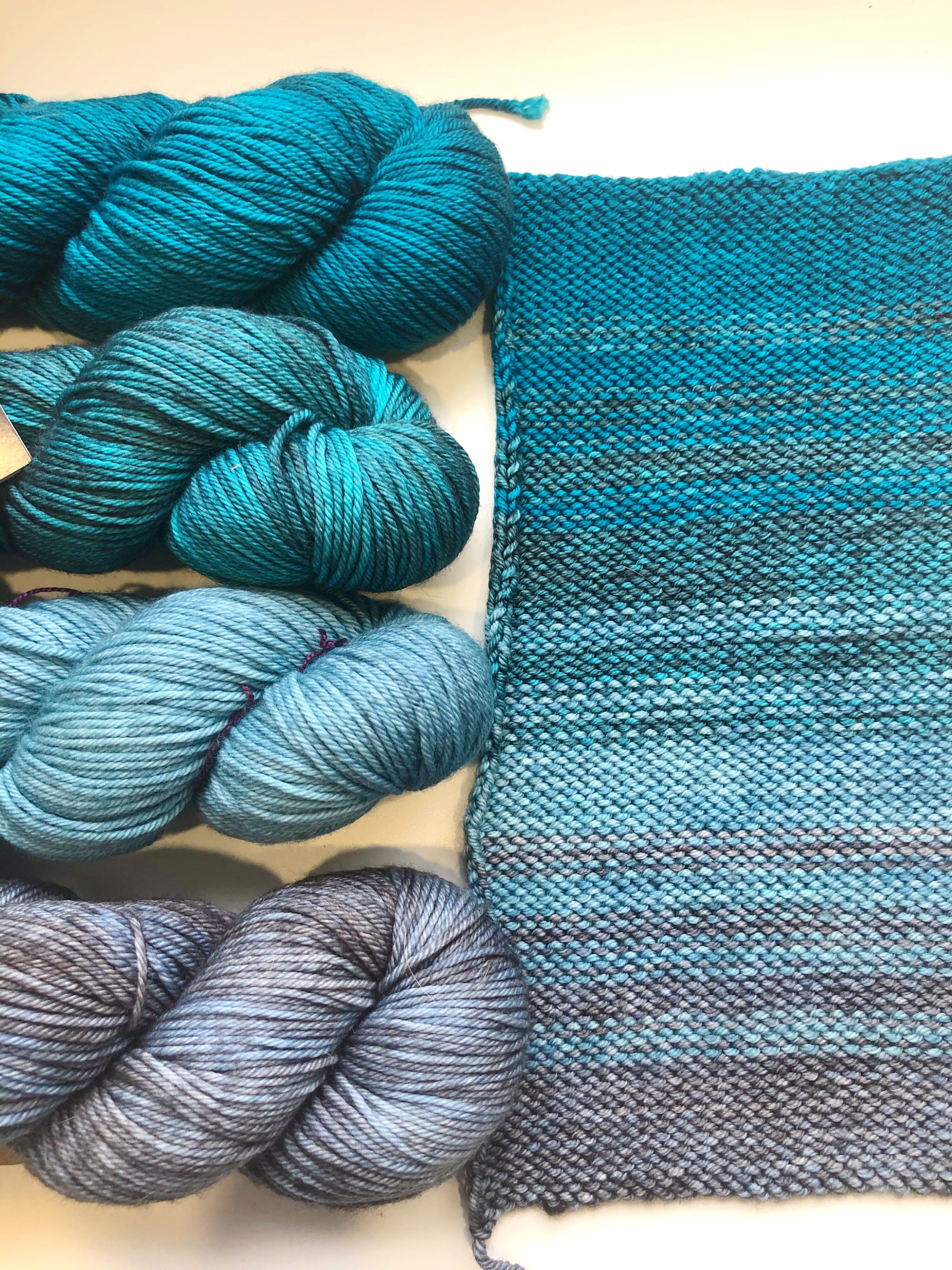 Phew. It was every bit as fadey delicious as I had hoped.
Then, I put the whole thing aside, because (and I'm guessing here), it was spring and I wouldn't need a sweater like this until fall. Fall came and went. Winter came and went. Spring came and…you get the picture.
Over the next three years, every time I took stock of my stash, I would admire this bundle of yarn and my precious swatch and sigh. And every time, a little voice in my head said, "It's not time yet." Stupid little voice. Why do I listen…oh, nevermind.
Fast forward to my inbox five days ago, in which I opened and read an email from the Grocery Girls reminding me about the Comfort Fade Cardi KAL Cast on Party they were hosting on Friday, March 19 (except it wasn't really a reminder because I hadn't read the first email in which such a party was announced, but whatever).
Before I continue with the story – some necessary digression. Who are the Grocery Girls, you ask, and what the hecking heck do groceries have to do with knitting? Well, allow me to introduce you…dear knitters, meet Tracie and Jodi: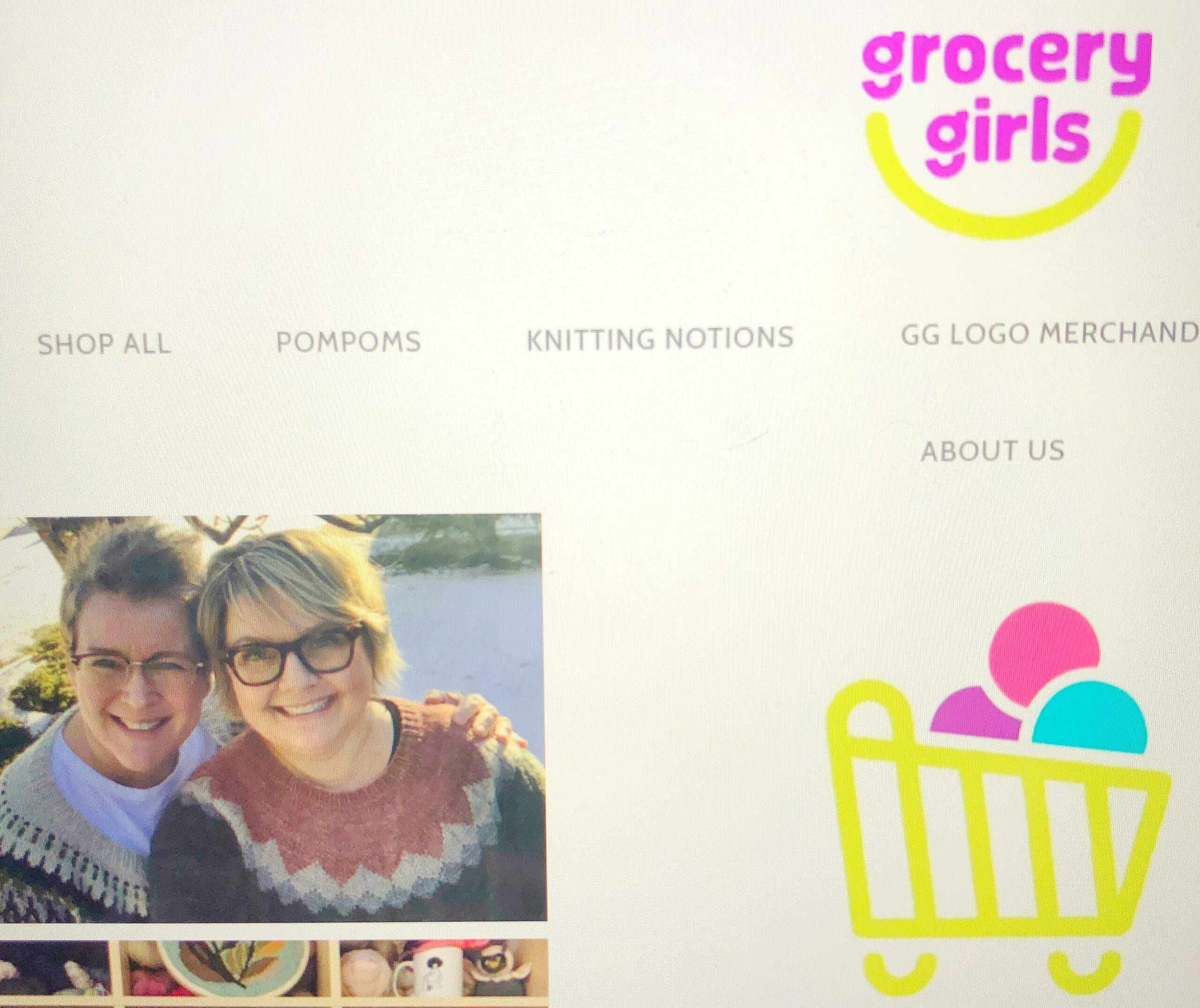 These amazing, adorable women are knitters, and sisters, who work in their family grocery store in Edmonton, Alberta, and have the most fun making imminently watchable video podcasts about knitting on YouTube. They also design fun patterns and sell cool stuff. Check out their YouTube channel here. Do it now. I'll wait.
Now, back to the story. For the last three weeks or so, I have been good. Really good. Remarkably good. I have been knitting nothing – nuh-thing – but my Leaded Glass Throw. I'm a good three-quarters of the way through the chart. Be proud of me! I'm being monogamous! I'm getting sh*t done. Except…I'm not now…because…
…there was an email. Don't you see??? There's a KAL (knit-a-long) for a pattern I've been all primed up and ready to knit for three years. THREE YEARS. There's a cast on party. A party for casting on!! There's simply no argument here – it was meant to be. That's my story and I'm sticking to it. And how was that cast on party, you ask? Surely you attended, Ms. Knits. Alas, I did not. This was a work Friday for me, and my stupid stupid stupid work ethic wouldn't let me goof off and watch YouTube for an hour. Thankfully, the Grocery Girls, in their infinite wisdom, recorded the whole thing and it's up there on YouTube for all eternity, so I watched it yesterday, as I CAST ON MY COMFORT FADE CARDI. Yes, I yelled. It was warranted.
The party was really very and truly cool. Tracie and Jodi were there. Andrea Mowry was there. The yarn dyer, Aimée, was there. They talked about all things Comfort Fade, and about a bunch of general stuff about designing and yarn dying and all sorts of cool things. 1000 people attended. ONE THOUSAND. (I yelled again)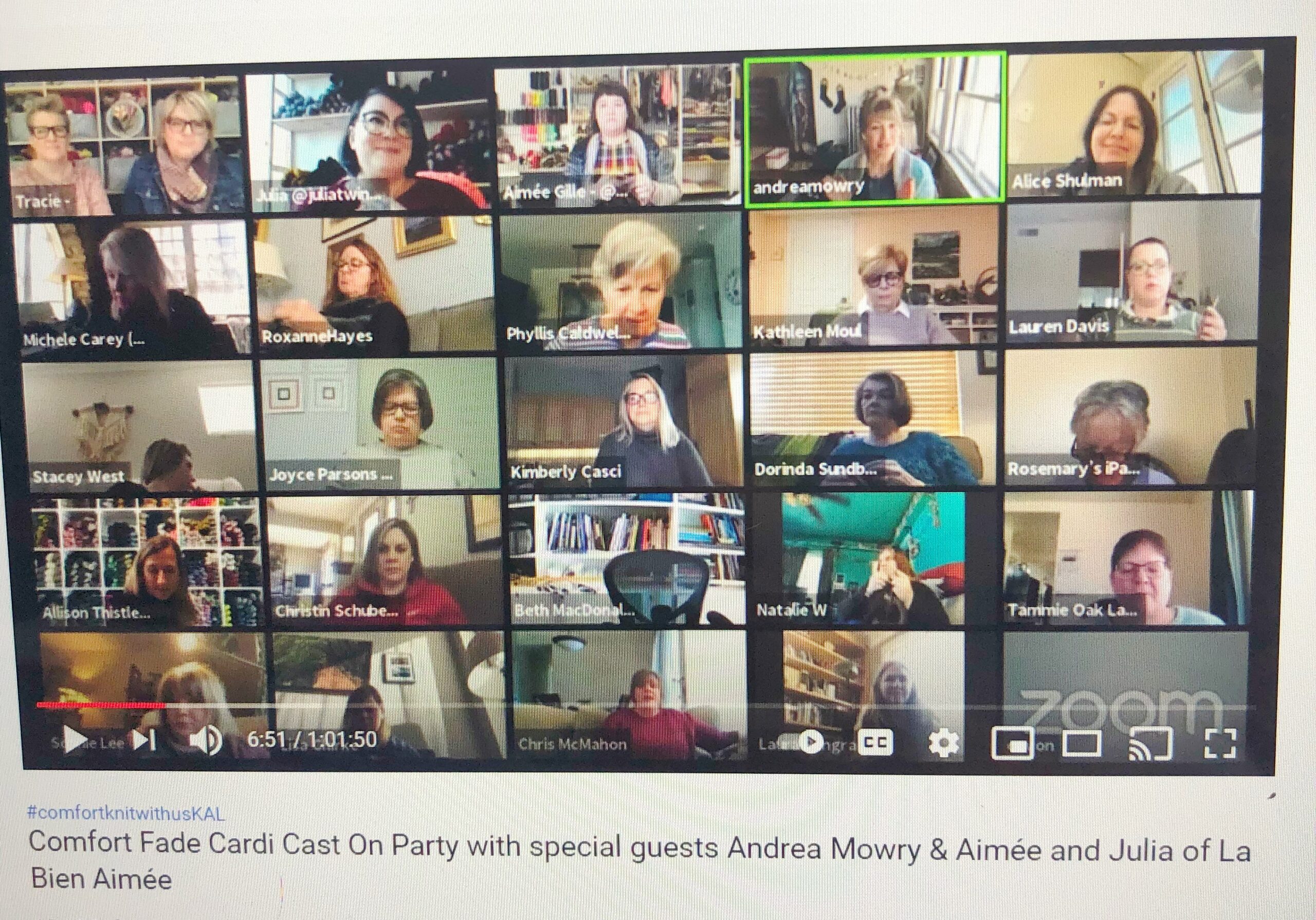 Here's the link to the video. YouTube Comfort Fade Cast on Party Go watch it. I'll wait.
So, now, in 24-ish hours I'm down past the first fade section of the yoke.
I. Am. Delighted. As soon as I've hit publish on this post, I will be popping over to Ravelry to join the Comfort Fade Cardi KAL forum.
As Oscar Wilde brilliantly quipped (and he brilliantly quipped a lot of cool stuff), I can resist anything but temptation. You understand, though, right? If ever the universe was begging me to forsake all other projects and knit something, this is it.
What did the universe tell you to knit this week, dear knitters? What tempts you to abandon all sense and sensibility and go for the gusto? Come on, you know you want to…
Knit well. You got this.
Knicoleknits