I love knitting sweaters. I knit often and I knit fairly fast. Ergo, i should knit a lot of sweaters. Um, nope. Sadly, this has historically not been the case.
I am a master at planning, swatching, and starting sweaters, but I am also easily distracted and fickle. Once a sweater is fully underway, my attentions wander to newer, shinier, batting-their-eyelashes-at-me wanna-be projects. Every new cast on offers up a soul-lifting, brain-tingling, heart-pumping rush of delicious adrenaline. I know you know what I'm talking about.
Just when it seemed my sweater-deserting fate was sealed with super glue, January happened. No, there was no pointless New Year's resolution, but there was an internet-based challenge thrown down to which I simply could not say no thank you. I can't remember if it was Mason Dixon Knitting or the Grocery Girls podcast in Edmonton, but one of them was enthusiastically promoting a January bang-out-a-sweater KAL. On a complete and total whim, I took the bait. After a whirlwind perusal of my stash and pattern library, I settled on the Washington Square Cardigan in SMC Select Deluxe Tweed that had been languishing in my stash for years. Somehow the idea of knowing how fast I really and truly could "bang out a sweater" was motivating enough to keep my wandering eye (and fingers) at bay until it was done. I knit that sucker from cast on to bind off in less than three weeks.
Finishing a whole entire sweater in way less than a month was nothing less than intoxicating.
That momentum piggy-backed me straight into a deadline-driven Tin Can knits test knit. I always meet deadlines…period, so remaining true to my school for this project was a no-brainer. Before you could say "hand me that stitch marker," I had a fabulous and flattering pullover done in the blink of any eye. Okay, more than a few blinks, but still, it was impressively fast. The pattern has since been published – it's called Penny. The whole collection is well worth a look. You can find it here: Tin Can Knits Paris Collection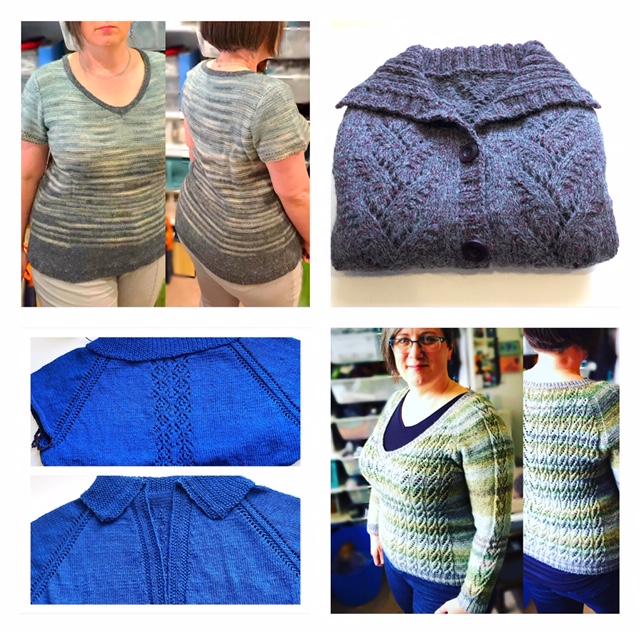 Now, it was mid-April and I was ON A ROLL. Immediately after binding of the last stitch, I started a knee length shrug on commission for a co-worker. I had that puppy signed, sealed, and delivered in two weeks flat.
Next up: I was itching to knit something seasonal, that I could actually wear in season (see Knitting White After Labour Day).
As I had done some project-related soul searching back in February, I went to my newly organized Ravelry queue and selected the project that reached out from my iPad pleading "pick me! Pick me!" The winning project was a Custom fit generated pullover tee pattern, which I planned to knit in linen blend Hikoo Rylie. The fade from grey to multi to blue was so mesmerizing that I really and truly couldn't stop knitting it. This time it took me slightly over five weeks from winding to blocking, but compared to the olden days when I would have languished over the project through the following winter, it was a freaking miracle of speediness.
Now, I do have to confess that while I was still finishing Penny, and weeks before I started the Rylie Tee, I started a sample KAL project for my office knitters – Vodka Lemonade. I've been whittling away at this one now and then as finished and started and finished other things, but it doesn't count because it's kinda sorta work-related (yeah, I know – weak argument).
A-hem – in 5 months, I have knit three and a half grown up person sized sweaters and a knee length shrug. This was 100% a result of being (mostly) monogamous once starting each project. Sticking with a single project works – that's all there is to it. But eventually, something's gotta give…
Since finishing the Rylie Tee, I've been scarfing down one palette cleanser after another…two baby hats, a cowl-necklace hybrid that I bought the yarn an pattern for during the Puget Sound LYS tour last month, and a swatch for the Wanderer Tunic knitting kit that arrived from Bluprint recently.
I also started (and just today, finished) a very very cool new thing – a mosaic cowl of my own design. I'm hoping to teach mosaic knitting somewhere special in the next year, and I wanted to have my own pattern to hand out with the class to avoid copyright issues. Here's a little teaser while the finished cowl is blocking and I get the sucker properly written up: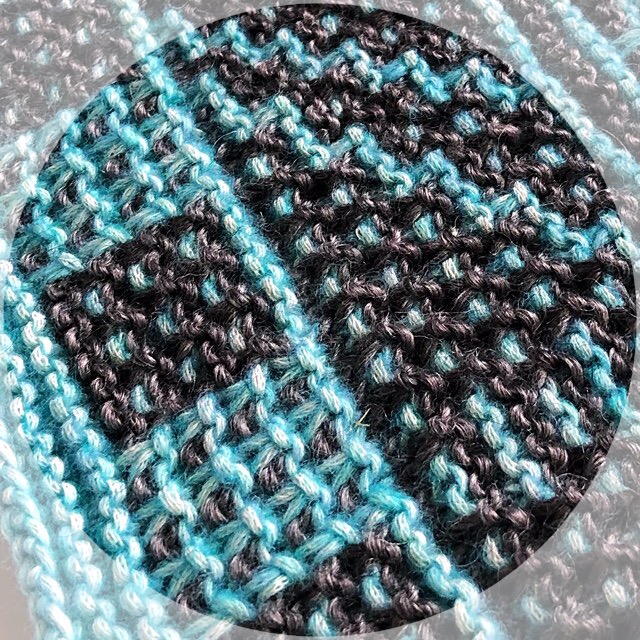 I'm working on a couple variations in a variety of yarn combos. I'm quite tickled with it and hope that others might be enjoy this easy-peasy breezy, yet impressive colorwork method and my groovy design.
My office knitters will be starting their Vodka Lemonades next week, so I need to focus on finishing that one up lickety split, but after that, I'm planning to take a hiatus from sweaters for at least a few months. I need to finish the Googly-Eyed Gator blanket for my grandson and I have no fewer than three kits arriving earmarked for xmas gifts, and I'm itching to swatch up some original mosaic stitch patterns, so I'll need put my blinders on leave future sweater dreams for, well…the future.
Whew.
Knit well,
Knicoleknits