I love my Christmas stocking. I love it hard. So really, very hard that I have rules about my Christmas stocking management.
Rule #1: There must be many many items in my stocking – at least 6 or 7 in my small stocking, leftovers in my (much larger) backup stocking.
Rule #2: Each and every item must be wrapped. This is critical to the prolonging of the stocking opening fun.
Now, as this is a knitting site, and all, you probably assume that my stocking is hand knit. That assumption is correct – at least for my main, smaller sock.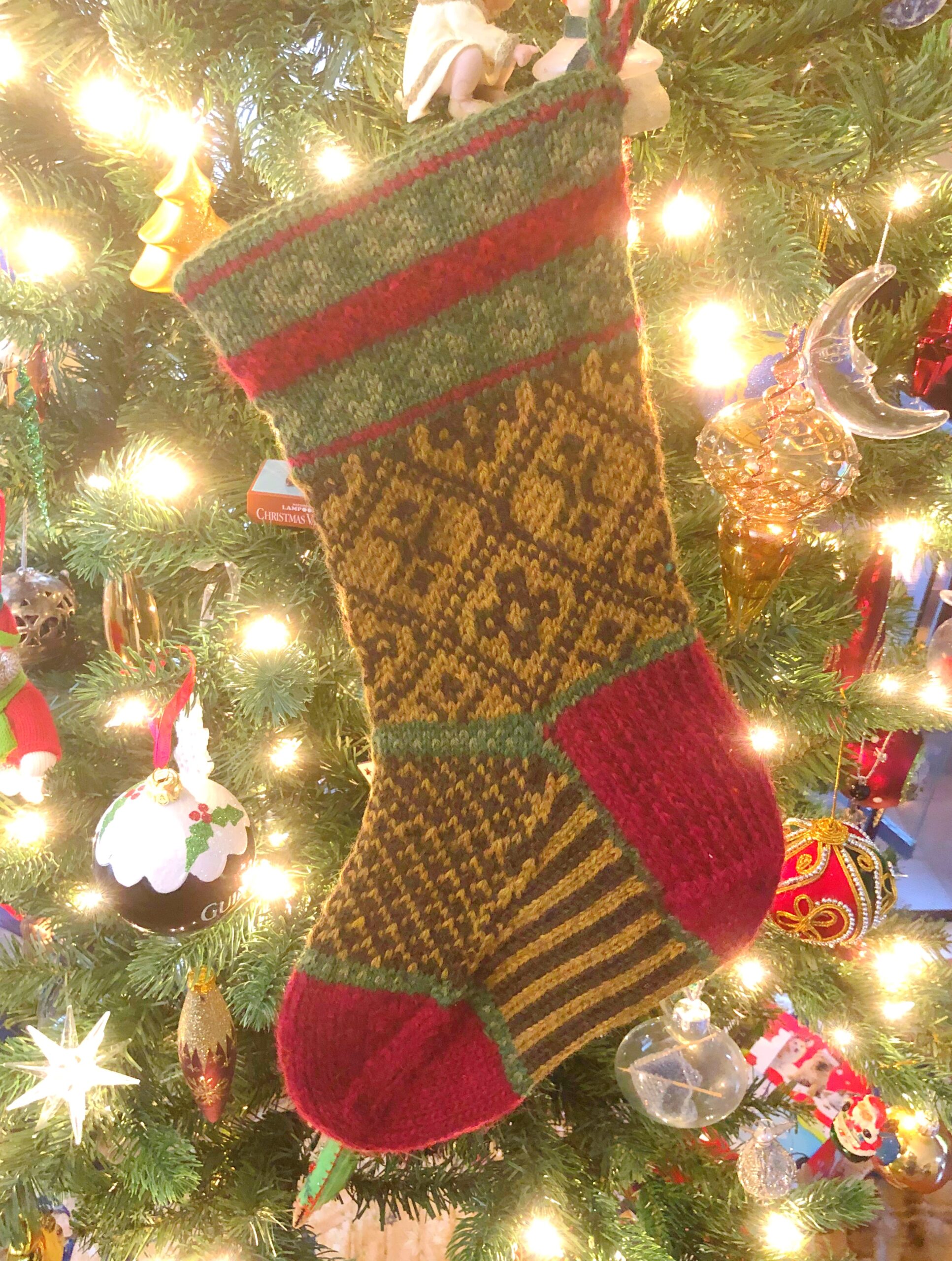 I knit this sock waaaay back in January 2009. The Ravelry pattern page is here. The design page features a photo of my sock in progress, which is kinda cool. It's knit from stranded knitting friendly ultra scratchy Loti yarn and a smidge of Cascade 220. It's a sturdy beast and has served me well for over a decade of xmas abuse.
In case you're concerned that this sock is much too small (and I share that concern), here's my back up stocking: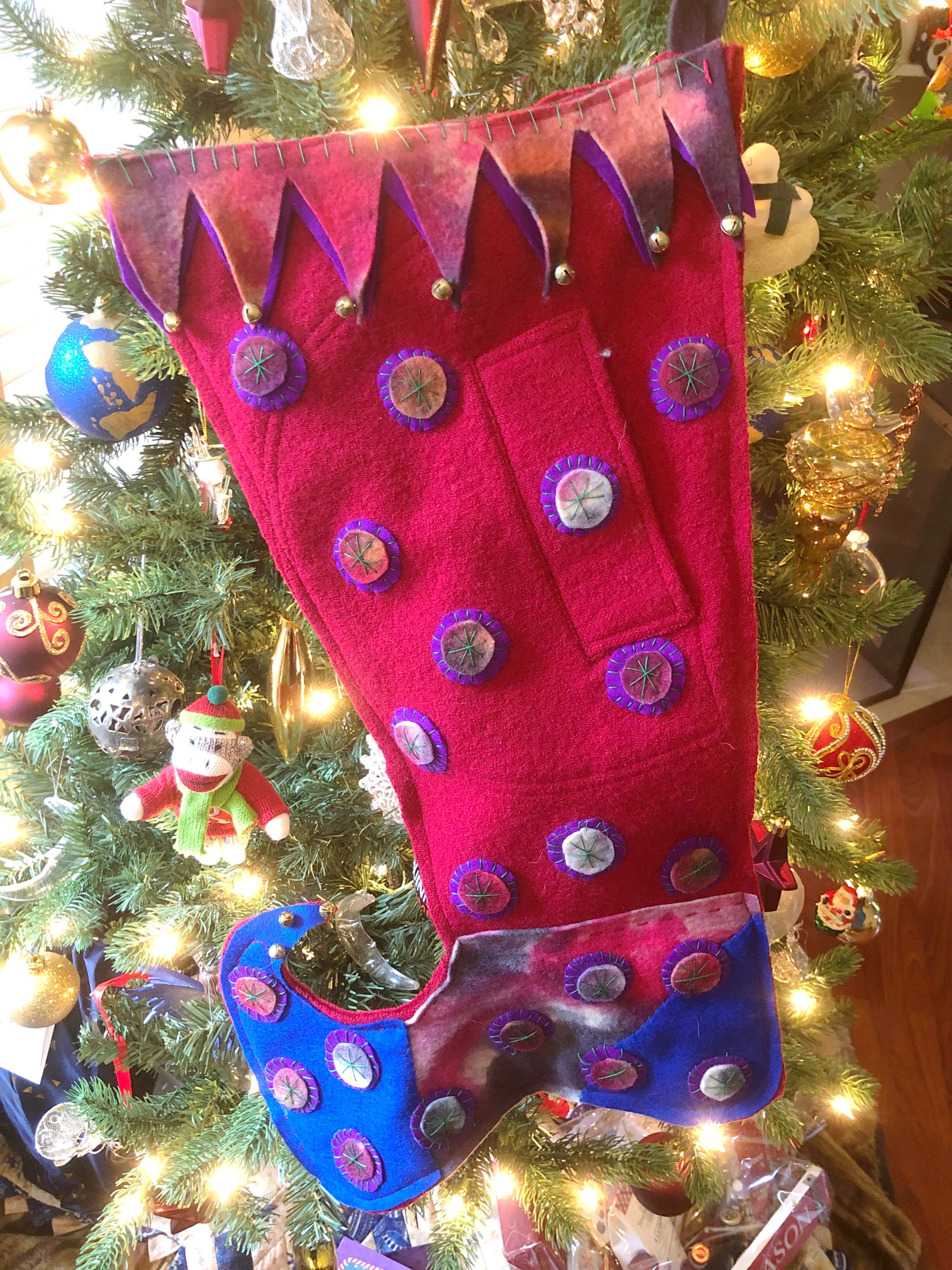 This happy, roomy beauty was made for me by my very talented and creative Wicked Step Mother, Christina. It's largely made from recycled wool felt – the red part is from a coat…you can see the pocket, which is functional on the front of the sock. Cool, eh?
Of course, my very knit-worthy Handsome Man also has a special sock. He's of part Irish descent, so what could be more fitting than a yummy cabled Aran?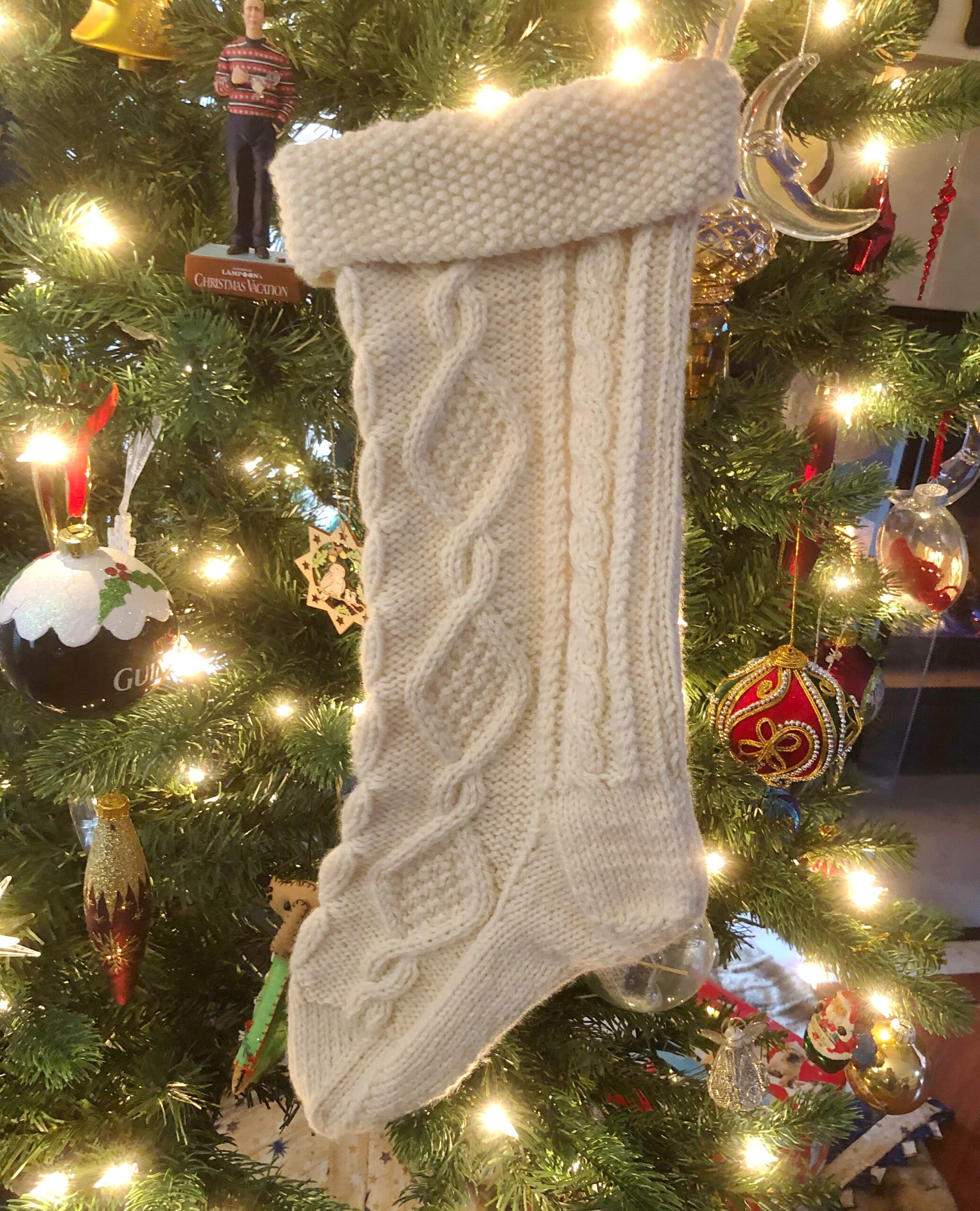 No pattern link for this one, because it's my own design – perhaps even my first. Nope – don't ask. I didn't keep notes when I made it (well over 10 years ago), so there's no pattern to share. If I recall correctly, all I did was grade up a standard top down sock method and added some cables and a turn down moss stitch cuff. The toe is a bit weird, I think. Maybe I'll knit a new version and actually write up the pattern for sharing this time.
Yup, I have grandkids – also eminently knit-worthy – which rightly results in personal and personalized Nima-knitted stockings (Nima is my grandma substitute moniker).
They each got one for their first Christmas. The pattern is from Knitpicks: Hearthwarming Stockings. It's kind of a choose-your-own-adventure style of pattern. You get lots of Fair Isle options and you just slot them in to a template as you see fit. They were both knit in superwash DK. I don't recommend knitting stranded color work with superwash. Yeah, I know I do it – I just don't recommend it. Superwash means that the pokey fibres that grip and hold yarn together are removed or covered up. It's much much MUCH harder to get good tension and fill when stranding with superwash. If you're learning, stick to regular wool – the scratchy, sticky kind that felts if you glance at it.
Those are just baby-sized socks, and as the smunches are now actual kid-kids and no longer babies, it might be time for another round of socks for them (and maybe even for us – woot woot). I've been eyeing up this pattern for a while: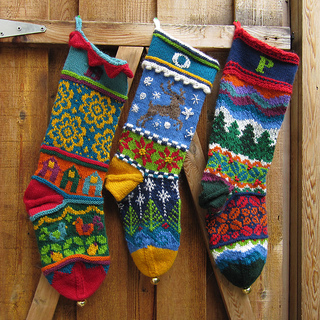 Spindleknitter's Stockings – Another plug-and-play style with the bonus of being a free pattern! As a free pattern, however, it's really just a template with a variety of charts – the knitter needs to add their own finishes. I really love the multi-color feel, though…especially for the kids.
Hmmm…now I'm all ansty to knit some new groovy xmas socks…hmmm…
What about you, knitter-peeps? Got a hand knit sock you love? Got a pattern we all need to see and drool over? Maybe you're knitting one right this very minute…
May your gift knitting be smooth and your Merry Ho Ho day (whatever that is for you) be full of joy and knitterly love.
Knit well – you got this.
Knicoleknits