Stop stressing…no one is ingesting any wool around here. Yarn tasting is a real thing, but it's not, like, a literal thing. It's a fun and useful marketing tool used by yarn stores and consumer events to allow customers to try out or "taste" a yarn before buying it. Think of being in Costco and that smiling apron-clad person hands you a little paper cup of something yummy…it's like that, but with yarn in the cup.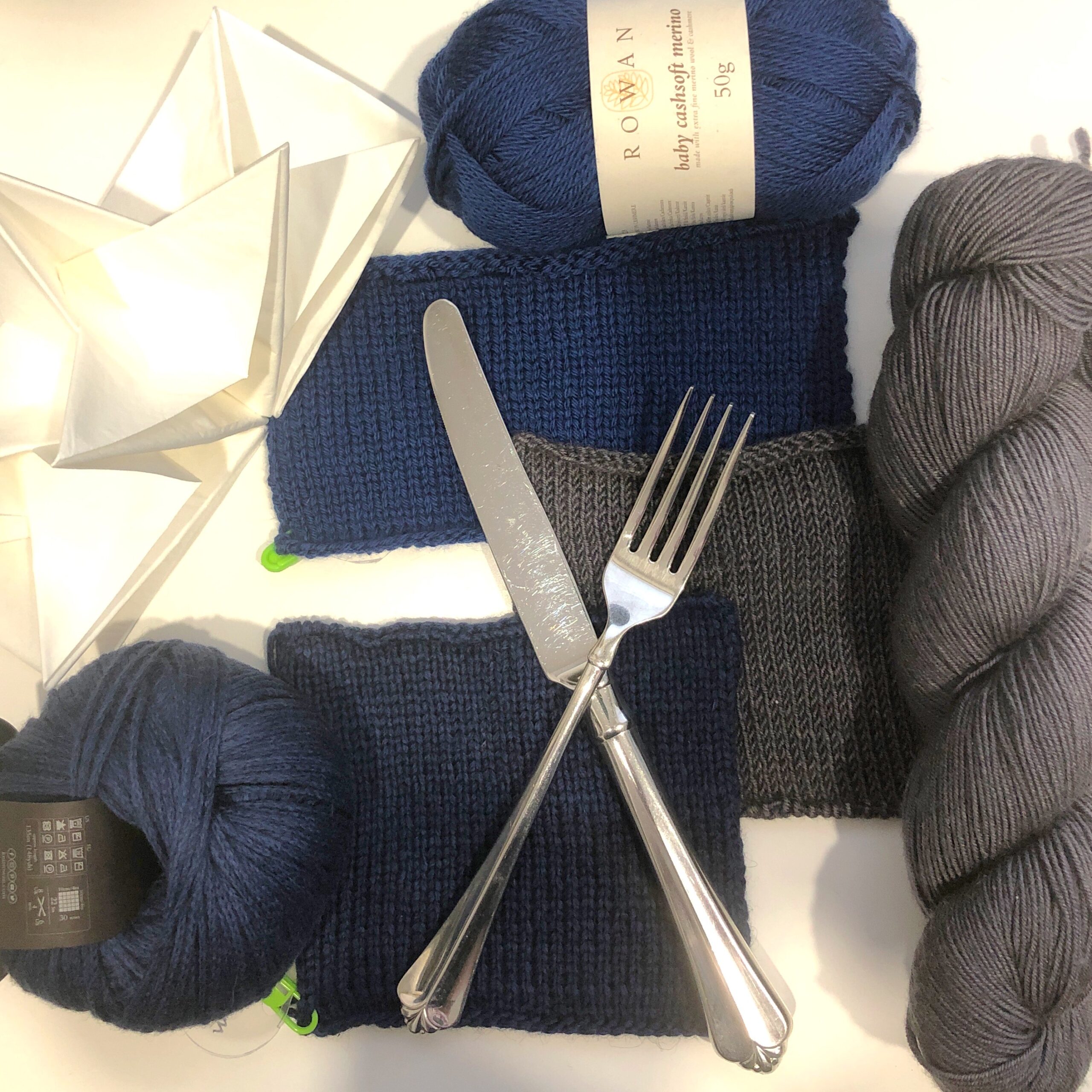 Since these are not the days of romping about in yarn stores, I have taken to interneting myself single skeins of particularly interesting yarns, solely for sampling…a bit of a Knicoleknits' pass-the-muster sort of deal. I swatch them with the recommended needle, wash, block, push, pull, dangle, and smush them until they tell me what type of thing they should – or shouldn't – be.
The full specifications for all the yarns can found by clicking the names.
Tasty yarn #1 – Rowan Softyak DK
A wear it anytime blend of cotton, yak, and nylon, this yarn is a chainette construction, which means it's like a tiny little knitted tube – like icord. This allows a cotton yarn to be airy and bouncy – unlike the old-timey cotton yarns that tended to sag, stretch, or get droopy after a few wearings. What it also means is that this yarn has no drape. Like zero. You can see it standing up like a perky little soldier against that dish.
I got 23 stitches to 4″ on the recommended 4.0 mm needle. The ball band gauge is 22/4″ so I'm in the ball park. I would definitely be happy wearing this yarn and am confident it would be itch-free (I'm a sensitive critter).
So, what could it be? Fitted or semi-fitted sweaters. This stuff is not going to flow, drape, or fold over your body, so don't try to pair with anything that needs to do that. Something snug and cosy – perhaps with a cable or two. The stitch definition is good, so textured patterns would show up nicely.
This Ravely pattern, Posee, by Marie Wallin, is designed in Softyak and gives you a good idea of the level of fit this yarn is best suited for.
Tasty yarn #2 – Crave Yarns Caravan
The folks at Modern Daily Knitting call this merino, camel, cashmere, silk yarn "dreamy." At $36 US per skein, it's also spendy. I scooped some up locally at a close out sale. After knitting it up at on the recommended 3.5 mm needles, I'm not sold yet – here's why:
First, while it claims to be a sport weight yarn (the maker does admit it's more of a light sport or fingering weight), it's actually quite fine and tightly twisted. So tightly twisted that my stitches did that skewing to one side thing that happens with unbalanced yarns. It's not necessarily a bad thing…it gives these lovely luxury fibres better durability. It's also wayverysupercrazy drapey. You can see from the pic above how it just flops over the side of the dish – no body, no way, no how.
I have 24 stitches to 4″ on 3.5 mm needles. I'm fairly certain if I were going to knit this into a garment, I'd want to go down at least one, maybe two, needle sizes to get a bit of a sturdier fabric. That would likely get me closer to 28 stitches per 4″ on a 3.00 mm. That's a big time investment, so it would really have to be the right project. On MDK, they used it for a textured, drapey shawl.
I'm sure they are right, that this would be an excellent project for this yarn. Hmmm…I have the pattern already…and I have 2 skeins of grey and one of olive green…and I have been wanting to try this sequencing technique…hmmm…
Tasty Yarn #3 – Rowan Baby Cashsoft Merino
This stuff lives up to its name – soft, smooshy, not an itch to be had, even with 57% wool. Bonus: the 33% acrylic makes it machine washable (dry flat, though – let's not get crazy here people). The last 10% is the cashmere frosting on the cake. As you can see, it's got a Goldilocks amount of body and drape (juuust right). And this darling French blue (Rowan calls it denim), is way purty – more saturated than the Softyak, which is more of a dusty navy.
On the recommended 3.25 mm needles, I have 22 stitches to 4″. The ball band says I should have 25 stitches. Nothing to stress over – it's a pretty decent fabric at 22 stitches, so all it means to me is that it's versatile. There was one downside – it's a 4-ply with a very loose twist, so it was splitty. Like, I had to fix a stitch on almost every row splitty. In the yarn's defense, I knit with very pointy needles, so switching up to a rounder tip would probably solve that problem to some degree. Also, I knit it straight off the ball. If I wound it into a cake, that would probably put some extra twist in it, which could help with the splitty-ness and bring my gauge closer to 25 stitches.
Now, what to knit with it? Pretty much anything, really. Rowan has about eleventy-million baby patterns for it, but that doesn't mean us adult-sized babies can't wear it too.
This croppy, v-neck Balsam Cardigan by Lisa Richardson has some groovy colorwork on the sleeves (I'm guessing they are knit flat…hmm…might have to buy the pattern now, just to find that out).
So, there we are. Tasting's over and I'm full for now, but if you have any yarns you're curious about and would like me to taste, just drop a note below and if I can find it, I'll try it!
Knit well – you've got this.
Knicoleknits