Essay: How I Spent My 2017 (well, some of it anyway)
Every month last year, I knit a couple of these: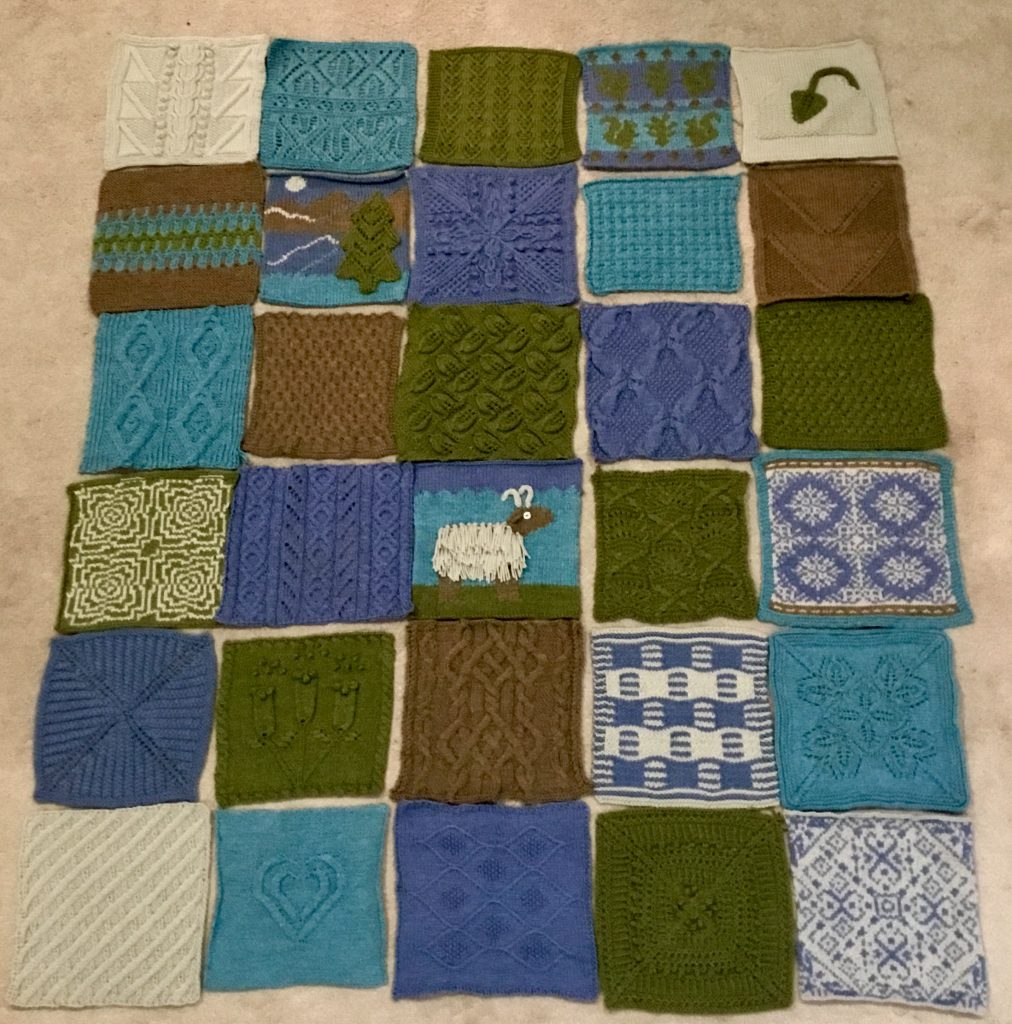 Yup, that's 30 blocks – not yet joined – we'll get to that part. First, how and why…
You may recall back in September, I gave a sneak preview of a handful of the blocks for this project. As a recap, here's what it's about: Last year, Cascade Yarns, in cahoots with Vogue Knitting, set up this year-long mystery KAL, in which 30 blocks, each designed by a different designer, would be released every few weeks. It's official name is the Cascade Yarns 30th Anniversary Knitterati Afghan Knit-a-Long.
I finished the 30th block at 11:30 pm on New Year's Eve. Yes, it was important that I finished them all while it was still 2017. Now stop asking silly questions.
What was cool:
The blocks were intermediate to advanced. For good reason, the vast majority of knitting designs and projects are for beginners to intermediate knitters. I was very pleased to see a "big deal" project like this include a fulsome variety of challenging techniques. Very cool, Cascade Yarns.
The patterns. They were consistently well written, with good charts.
The deadlines. I can almost guarantee that I would not have finished a big project like this…maybe ever…without the deadlines.
LEARNING NEW THINGS. I yelled that, because it's a very big deal. Yup, there was stuff in some of these blocks that I'd never done, like stacking and lace entrelac. Who knows when I would have gotten around to trying those things, if not for playing along here.
The Ravelry groups. Sharing info and questions on the Rav pages was very helpful – including giving me and others a place to vent about the "issues" (see below)
What was not cool:
Cascade made a few mistakes. Some stuff simply wasn't thought through:

They said that the blocks were released in a completely random order. If this was so, I think it was a mistake. On occasion there would be several, as many as four, blocks in a row in the same color. Booooorrrrrring. And also somewhat discouraging about the outcome of the finished project. There was grumbling in the Rav groups (no, it wasn't just me)
They didn't count on people (namely me) wanting to finish the project to give as a Christmas gift. To their credit, they did acknowledge the error when I raised the issue on the Rav group, and said they would take that into consideration for future projects.
They didn't have the finishing instructions ready before the end of the year. The final part of the pattern wasn't released until January 25th. LOTS of grumbling over this. I understand that the moderator had a family emergency to deal with, which was part of the cause of the delay, but they were also apparently waiting on Vogue Knitting for the finishing instructions. Why weren't the finishing instructions ready by the end of the year? They had the entire year to do them…just sayin'
The gauges were all over the place. It's clear that the blocks weren't test knit by anyone except the designers. Some blocks were way too small, others were much too large. One look at Cascade's sorry finished sample at VKLive New York this month tells the whole tale (Note – they have since put up another finished afghan that lies perfectly flat with all blocks exactly 10×10" – why wasn't that one up at VKLive, one wonders…). I believe it was unrealistic to expect people to gauge swatch every block – by the time you've done a swatch, you've knit most of the block. I didn't swatch and my block sizes are all over the place.
The finishing instructions are lame. So lame, in fact, I'm completely ignoring them. All they did was slip stich the blocks together and add a sad little narrow border. These blocks are cool and deserve to be set off with a frame. I'm doing my own thing.
Here's the plan:
Lay out the blocks to determine placement. Done (see photo above)
Make a note of the blocks that need resizing or squaring up before joining. Done (see photo above)
Add a single crochet border around every block, adding extra rounds of single crochet as needed to bring each block to a tidy 10 x 10" (see photos below)
Join the blocks as laid out above with the Continuous Flat Braid Join (crochet).
Wrap it up and hand it off to its new owner on February 18. Yep, another deadline.
Here's one of the smallish blocks before and after getting a crochet border. You can see a full size block under the original color work block.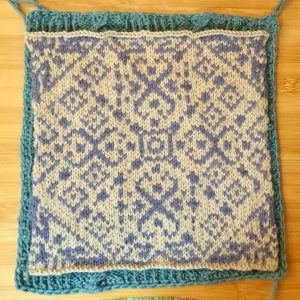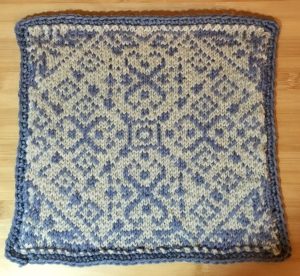 Now, I just have to do this 29 more times, then join them together. Um, I'd better go…
Knit well,
Knicoleknits