Hi all,
Nice to "see" you again. Busy summer – no time for posting. That's the best I can do for excuses.
Anywho…let's move on, shall we?
So, a year ago I knit this sweater (Sandy):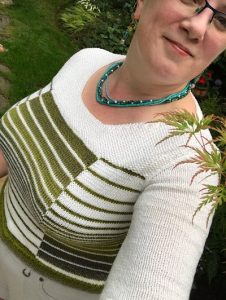 Nice, right? The stripes turned out really cool. However, after it's first wear, I realized that it was too short. I know it's hard to tell from this photo angle, but the hem is a mere few inches below my waist.
Easy fix – just add some length to the bottom. I wanted to create a double hem look, so I picked up stitches from the back just above the existing hem: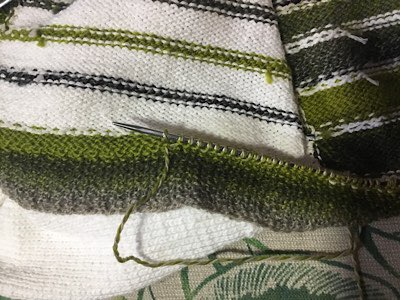 It was tedious and tricky to stay on the same row. That very cool marl yarn was near impossible to follow in a clean line. But I perservered and hours later, I was done.
Sadly, after I finished adding the length, I decided I didn't like the look of the double hem, so the upper "original" hem had to go. I couldn't remove it completely, however, because I had picked up stitches underneath, so I cut and removed most of it, leaving about 4 rows of seed stitch to tack down on top of the new under hem:
Finally, the new longer hem was in place and I tried it on: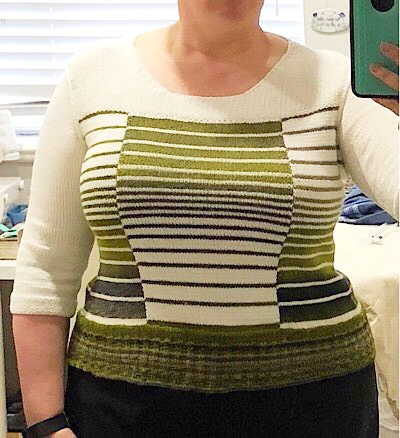 The length was definitely better, but flattering…nope. Not one whit. Now what?

I decided it was too tight, which was distorting the stripes and making me look wider and would look better with more ease, so the next step was figuring out how to add after-market width. Seeing I had worked the new hem in the round, opening the side seams and adding panels there was not going to work. I decided to steek the center, add front and neck bands, and turn it into a cardigan: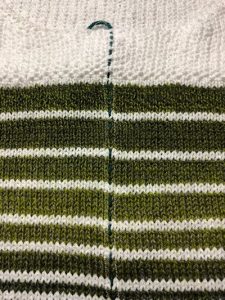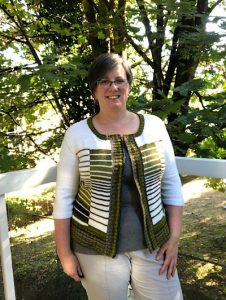 Yeah, okay, the cardigan looks pretty good, but when I put it on a bit later to wear it for the first time, something still wasn't right. I just couldn't get happy about the neck line. Almost nothing worked under it except for the grey tank in the photo. Great sweater, but still not quite right for me.
So, now what?
Change the neckline, of course. I had options – I could undo the whole nine yards back to the top of the stripe area and reshape the neck, but that would mean taking out the sleeves, at least part way, which would be tolerable except, because of the steek, I would have to remove the front bands, and then there was the stitching and the cut edges to contend with…
So, that wasn't happening.
I was going to have to do some drastic stitch and slash surgery to make a new neckline. Am I nuts? You betcha!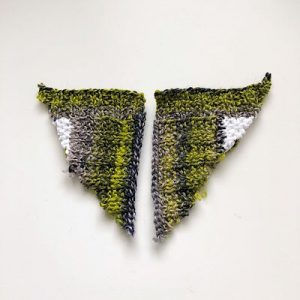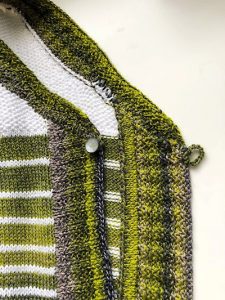 Yup. Did some reinforcing with the sewing machine, hacked off those corners, added a new neck band, button and loop, stitched the "seam allowance to the inside neck band, and viola!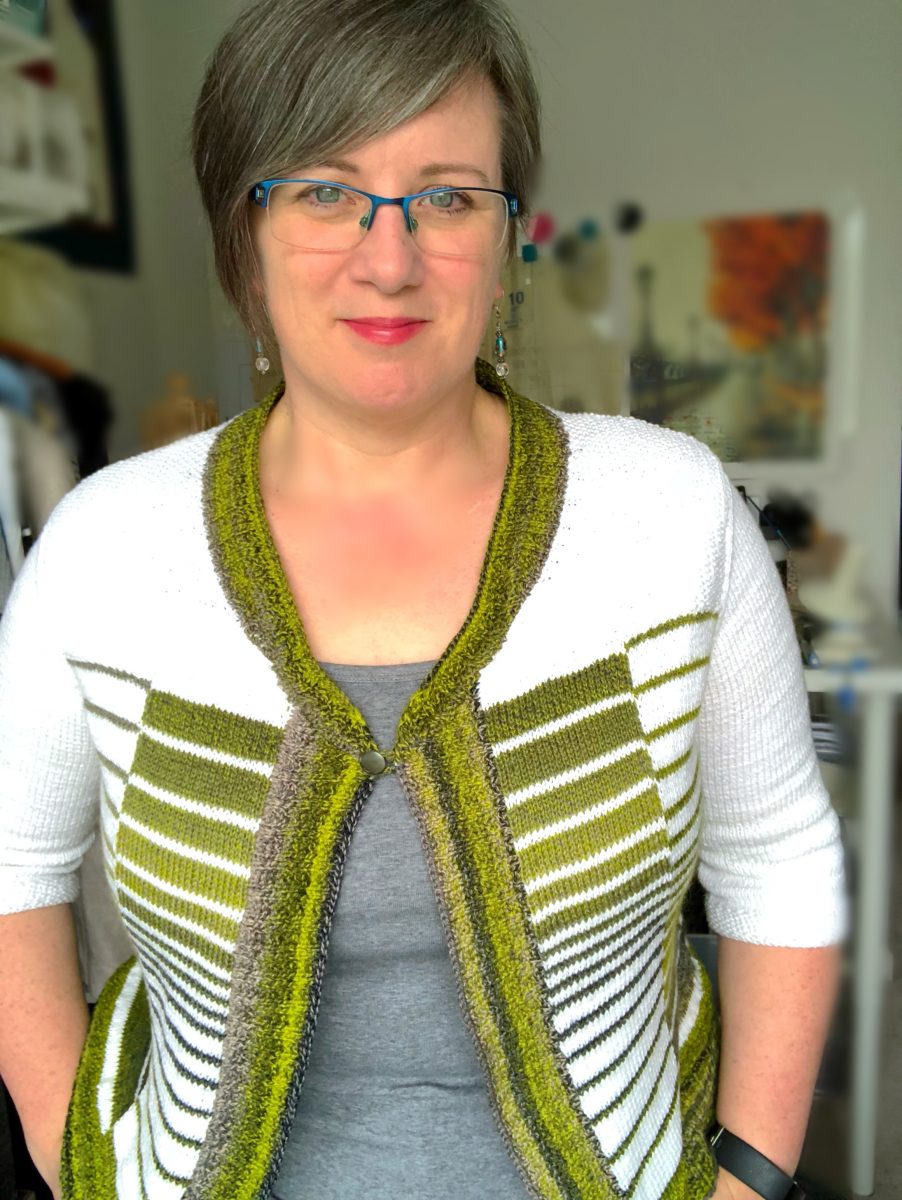 Finally, flattering and wearable. I could probably have made 3 sweaters in the time it took to work, and reworkreworkrework this one, but I think it was worth it, and I did learn a bunch of stuff.
Maybe I am nuts…
Knit well,
Knicoleknits