I enjoy being charitable. I participate in worthy fundraising campaigns. I donate a portion of every paycheque to great organization. I help out the homeless directly and indirectly.
But I've never been all that keen on charity knitting. A loooooonnnnng time ago, I knit a few bears for Doctors Without Borders to take to Africa, or somewhere like that, but other than that, nada.
Until this month.
Generally speaking, I haven't put my knitting skills/time to work for charity because the projects are simply, well, too simple, boring, and tedious. I know that's a lousy excuse, but there it is. However, this month I'm part of a fundraising team at my office. We've been coming up with creative ways to make money for a Tampon Tuesday drive. Tampon Tuesday is a campaign to raise cash and product for specific organizations, such as women's transition houses, to ensure that women, girls, and others, have access to menstrual products, with dignity, when they need them. It's a very worthy cause, but that's not really to subject of this post – I'm really here to discuss how I brought knitting and fundraising together in a way that works for me.
There are several teams competing on a number of levels for this campaign. One of the challenges is to come up with the most creative way to raise cash. Hmmm…creative…knitting…obviously there had to be a way to put those together. My first thoughts were "what can I knit that's fast, impressive, and won't make me crazy?" A quick Pinterest and Ravelry search brought me to this free pattern: knit bunnies
These little bun buns are super cute and lickety quick – a simple garter square, a bit of sewing and embroidery, and a pom pom tail, and voila! I've made 12 of them in the last few weeks (the last five squares were knit by a co-worker, and I did the bunifiying). We're selling them by donation, with a suggested price of $10 each. Turns out bunnies sell like hot cakes.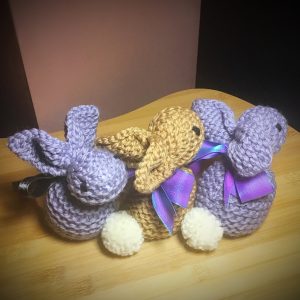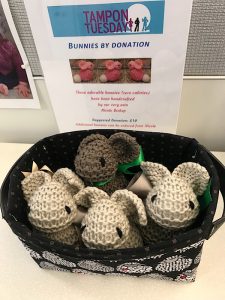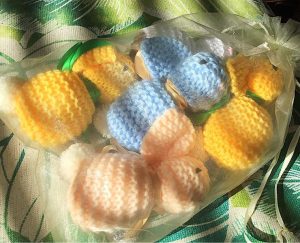 Even still, I knew I would tire of being a bunny factory before too long. I needed another idea.
I am frequently asked if I can be hired to knit custom items. The answer is invariably "no." My knitting time is precious and there's no way I can charge enough to make it worth my time. After all, $40 an hour for hand knitting is pretty steep, by any stretch of the imagination. So, that makes my time and skills pretty valuable and rare, I figure. And how do you make decent cash from something valuable and rare? You hold a silent auction, of course!
I set up two lots of knitting services – one for a simple baby item or accessory, and one for a full garment or lap-size throw. I set a reserve bid of $40 on the accessory lot and $100 on the garment lot. Here's what the marketing part looks like: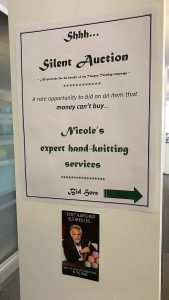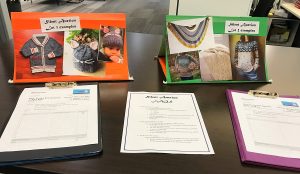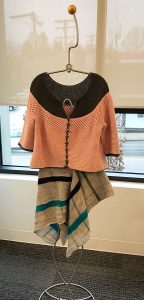 I made some picture boards with examples of what could be ordered. Some of them are things I've knit, and some are patterns I thought would intrigue people. The rules are: you can have any item knit to any size – materials are not included – the winning bid buys the knitting work only. Of course, I will assist with pattern and yarn selection. There are many very keen bidders. Both lots are currently at more than double the reserve bid. The auction closes on Tuesday at 5:00 pm. It will be fun to see how high they go.
Fingers crossed that it all works out super well. It may become an annual event, as we expect to repeat this fundraiser next year. I'll keep you posted on the auction outcome and the how the knitting comes along for the winners.
It's exciting, right?