Back when dinosaurs roamed the Earth, before social media, people – and by people, I mean me – were knitting. I know, right!? You had to read that twice, didn't you? No lie, it was happening and I have proof.
This will be a bit of fun, but I have to warn you that these pics are pretty sad. You see, before Ravelry, Insta, Pinterest, et all, it simply didn't occur to most of us to document every move we made, which includes photographing all projects as they are contemplated, in progress, and completed. So, what I have here are some random pics of me taken for reasons other than showing off my knitting prowess. More like glimpses of knits gone by, really. I've tried where I could to find the original patterns, so you can see the full design, but alas in some cases, memory fails and/or no images from ancient times can be had.
Okay, with disclaimers complete, on with the show…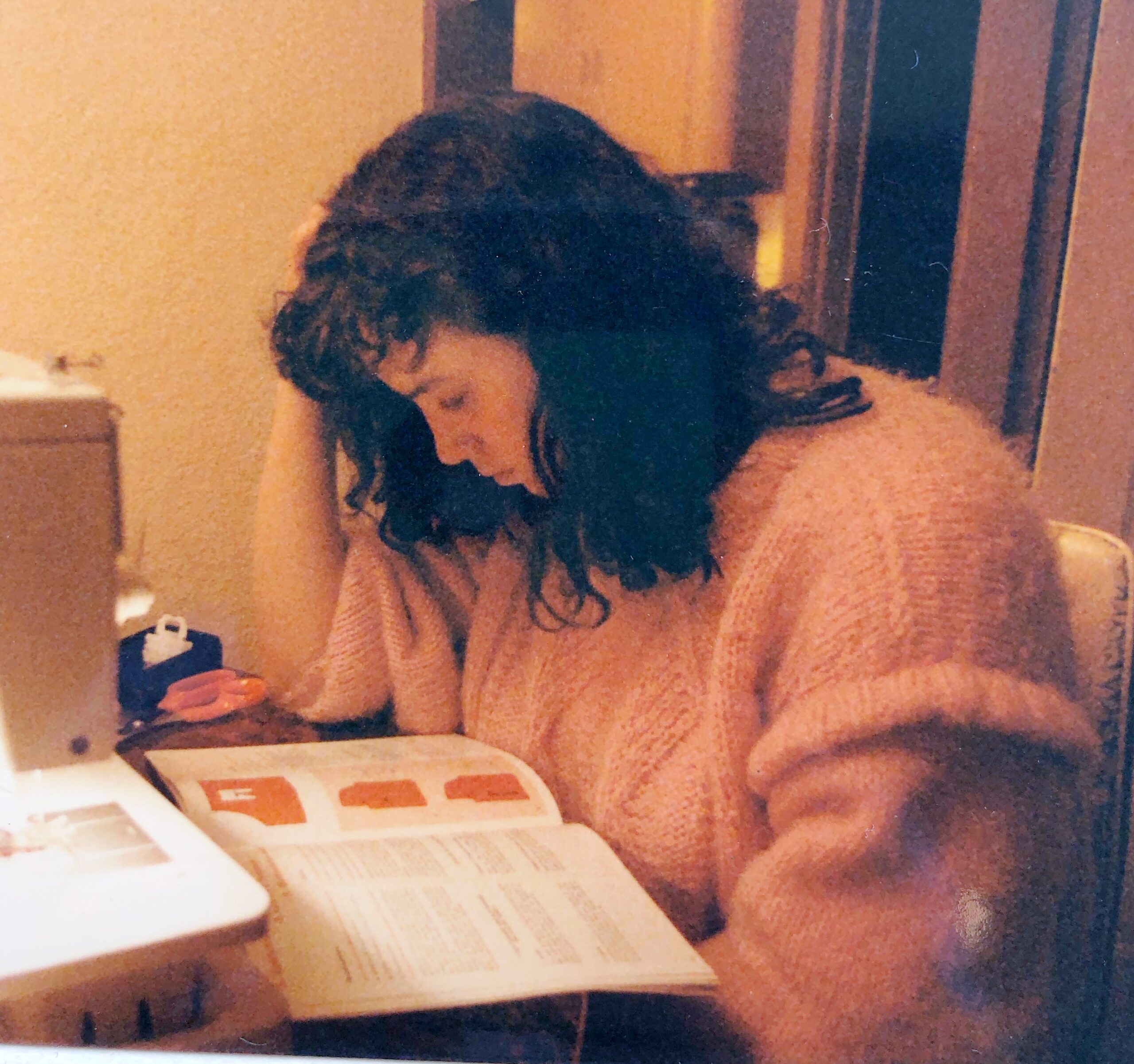 Circa 1986. Pattern and yarn – unknown. I'm all of about 19 years old here – pouring over a sewing book and snuggled in a fuzzy acrylic pullover with super weird drop sleeve welts and the most obnoxious shoulder pads imaginable. Yup, shoulder pads in a hand knit…Helloooo 1980s. I'm telling myself I never went out in public in this sweater. Prove me wrong.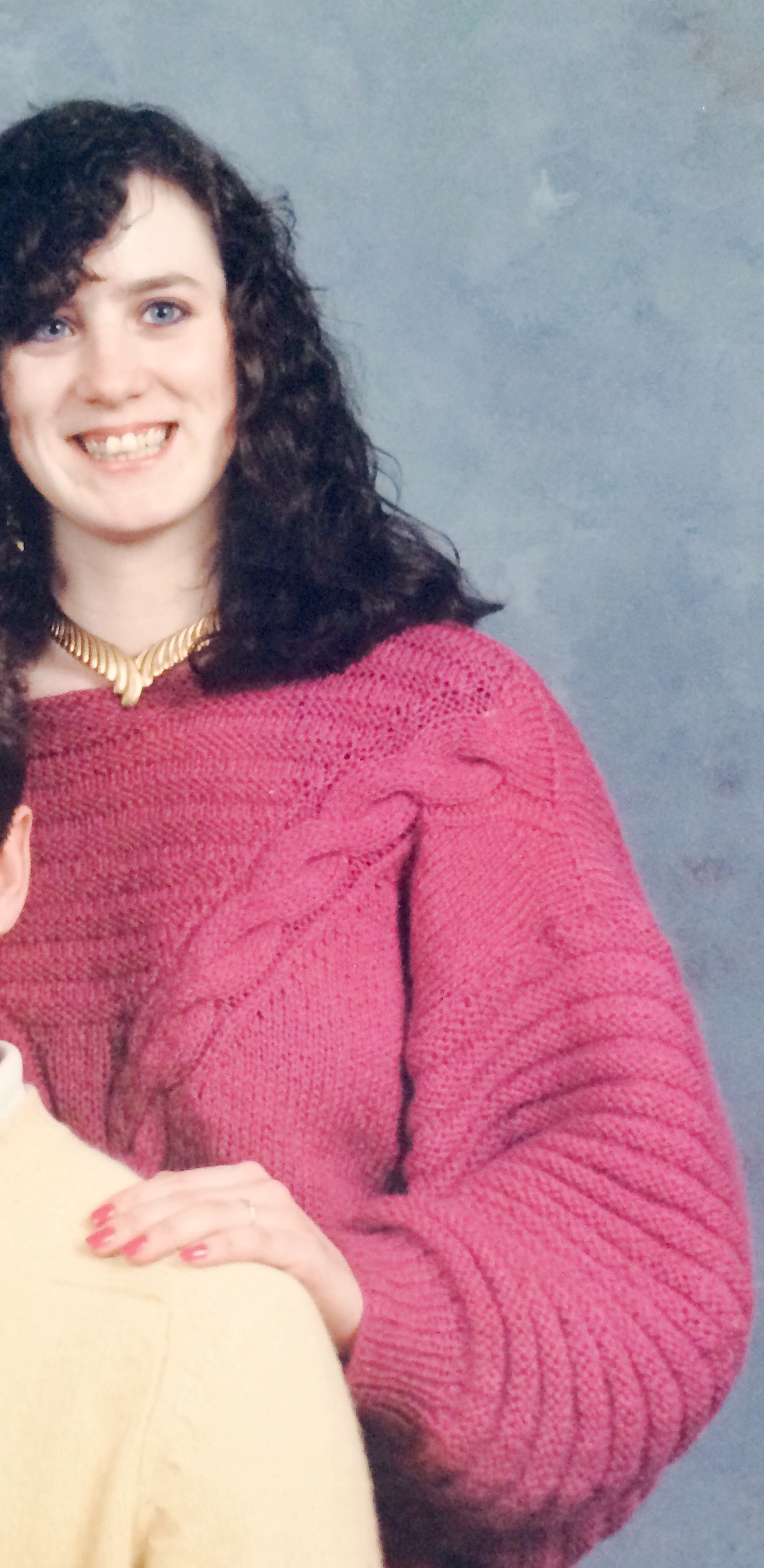 Circa 1987 (give or take a year). Pattern and yarn unknown. I don't have much to say about this, as the dropped shoulders and giant, blousy sleeves speak for themselves. Spiral perms and hot pink everything. Sigh.
Circa 1988. Pattern: Vogue Knitting Spring/Summer 1988 – Sun Moon Drop Shoulder Pull. Yarn: Worsted cotton. Clearly the only thing this photo proves is that I knit this sweater, but fortunately I found a pic of the original design in the VK magazine. The pattern called for cotton DK, but I'm fairly certain that I knit this in worsted weight, which explains why it really has no drape whatsoever. All the colorwork is done in duplicate stitch. That means that a plain stockinette piece was knit first, then the design added over top by handstitching over each stitch with the contrast color. Tedious is an understatement, but the result is way cool. When the neckband and cuffs wore out, I repurposed it into a pillow, which I still have. It's stained and beat up, but I can't seem to bring myself to chuck it.
Circa 1989. Pattern: Vogue Knitting Fall 1989 – Aran Pullover. Yarn: Either Eaton's or The Bay brand worsted Sayelle (aka cheap acrylic). Again, not the most illustrative of photos, but the Vogue shot is there to provide a smidge more detail. The pattern called for merino sport weight and I knit it in worsted acrylic because that's what I had and could afford (I recall paying as little as 60-70 cents per skein in those days). It was oversized, ill-fitting, and had little drape, but I wore it anyway. When I look at all those bobbles now, I wonder whatwasIthinking???
Circa 1991-ish (is that redundant?). Pattern and yarn unknown. I remember knitting this one as a sample garment when I worked in the fabric and yarn department of Eaton's Pacific Centre (downtown Vancouver) in the early 1990s, although these photos were taken some time later in the mid-1990s (I can tell by the hedgehog haircut). I suspect it was an Anny Blatt pattern, but I'm not sure because I don't know that Eaton's carried Anny Blatt yarn. At any rate, it was made from a smattering of novelty yarns, including mohair, eyelash, and rayon ribbon yarn (holy crap that was hard to knit with – slippery as an eel soaked in WD-40). I'm not crazy about all the competing textures, but I do appreciate the intrigue of the little stripey sections.
Circa 1992. Pattern: Vogue Knitting Winter 1991/92 – Funnel Neck Intarsia Pullover. Yarn: Patons Cotton DK. Yet another flashy intarsia number with little to no body shape. I may have knit this as a sample garment for Eaton's, but I'm not positive. It was an Adrienne Vittadini design and I was very into her designs then. I thought I was the chic-est thing on two feet when I wore this.
Circa mid-1990s. Pattern unknown. Yarn: cotton something – probably Patons. Didja notice something? Thaaat's right – this isn't knitting, it's crochet. CROCHET. Didn't know I was bistitchual, didja? I remember this was done in cotton, probably for Eaton's and probably a Patons pattern. I think this was one of only two crocheted garments I ever made. The other was a wool blend (definitely a Paton's pattern) in navy blue with granny squares around the bottom edge. Crochet designs have come a long way, but they still don't have the versatility of knitting (I'm going to get mail for that remark), so I remain loyal to my needles and only pick up a hook for finishing or non-garment projects.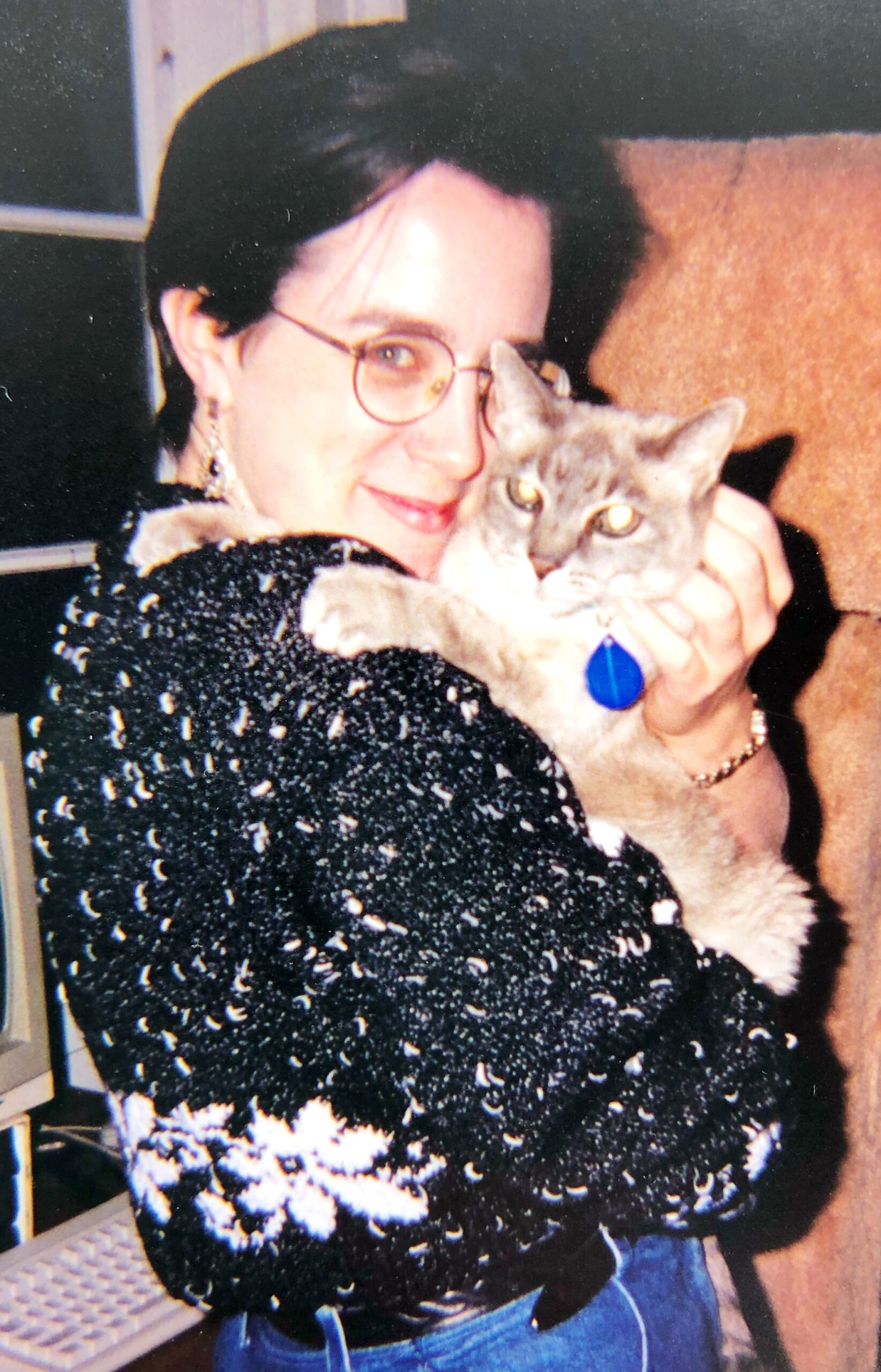 Circa 1990-something. Pattern: unknown. Yarn: Patons Moonrise. This photo was taken in fall 2000, but the sweater was knit well before that. I don't remember where the pattern for this cropped cardi came from…possibly a random knitting book I had, possibly Rowan something. I do remember the yarn though, as it was a very new and very novelty type. Those little curvy while flecky things are cocoon-like like slubs that randomly appear on the otherwise mostly black yarn. What you needed to do after completing the knitting was grab a darning needle and tease all the slubs out to the right side of the work, where they were in perfect position to be snagged by a cat's claw (which may or may not have happened when I put that cat down). The slubby things also glowed in the dark, hence the yarn name: Moonrise. Like I said, novelty.
There we have it, folks. I hope you enjoyed that little trip down my metaphorical memory lane. Feel free to mock the ridiculousness that was 1980-1990s design esthetic – or my spiral perm, whichever…
Until next time, knit well. You got this.
Knicoleknits